GOLDEN HARVEST INDUSTRIES
in this series i am speaking 2 the artists exhibiting in Nanny Cam, our film screening of artists who don't hav a degree in Fine Art. - - -
First of all what is going on with the name? GOLDEN HARVEST INDUSTRIES - MINESHAFT CRUISE DEPT. is ludicrous and I love it.
Using my own stupid name seemed like an awful idea so I stole half of the name from a popular martial arts movie company, and the theory behind the departments is to make it seem like a team of people are behind everything rather than just one dull porridgey man alone in a bedsit. I think in the past i've used
MINESHAFT CRUISE DEPT
SCARECROW DIVISION
HORSE COMPLAINTS
GUILLOTINE MAINTENANCE
RUBBER BOYARDEE INNOVATIONS & TECH
which seems far more fun than 'CRAP DAVE' which is my actual real name
Can you tell us about the video you are showing in Nanny Cam?
Without wanting to spoil it, i'll just say it felt right so I did it and it worked. By the time I did it was a completely out of date reference that made me look like a stupid predictable hack, and that's exactly how I like it.
How do you feel about Drake?
Last year I went through a spell of really wanting a big warm coat like Drake, but I could never afford one. Before that my only point of reference before Drake was that a bathroom I used to use a lot between the ages of around 23 and 27 had a poster of Drake with a digitally printed signature on it, presumably because he couldn't actually be arsed sitting down and signing loads of them. I looked at that poster around 4 or 5 times a day 7 days a week for 4 years in my lowest moments. It wasn't until Hotline Bling came out that I really heard any Drake, but I went back to that same bathroom recently and the poster is now gone. Like a troubadour would the earth and a lone fisherman the oceans, I put everything I felt, everything I knew, hated, loved, admired, despised and dreamed of into that poster of Drake facing a toilet and like so much in life it simply vanished without a trace. A lesson in love, if ever there was one.
What have you done today?
I looked after my friends cat and was advised by a member of the DWP staff to tackle my anxiety and depression by forcing myself to go out for a walk and asking people the time at bus stops
What is your favourite art thing you've made or imagined?
I was once asked to contribute to the opening night of an arts criticism website because i'd designed a tshirt for a competition they had that ended up getting printed as one of their favourites. Anyway, I was excited to be contributing to what felt like proper arts or whatever because I don't think i'd exhibited or anything before that, so I dropped off the drawing at the venue in person and went home excited about how it was all going to be received, anyway, I got a DM on Twitter from one of the organisers telling me that the piece didn't fit in with the show thematically, and worst of all the print quality wasn't good and you could see things like pencil marks on the drawing that hadn't rubbed off properly. The drawing in question was of a skateboarding corpse advertising a new type of bong that was made up of a dead policeman tied to a chair where the mouth was filled with crack and lit with a medieval torch, and the cops dead dick was used to huff the fumes. It was my favourite thing, and still remains my favourite thing i've done. I was seriously cut up about them not displaying it at the show but I think I won in the end because instead of going to the opening night I ended up going to Leeds and drank loads of lager and went to the cinema.
Can you link me to some of your fav internet videos please im bored at work
Rent-A Friend - https://www.youtube.com/watch?v=DMi86xNrPpU
Billy On The Street - "It's Debra Messing, You Gays!" - https://www.youtube.com/watch?v=Wl_1nKFCNiM
Taffin - MAYBE YOU SHOULDN'T BE LIVING HERE - https://www.youtube.com/watch?v=tXcgt6l_LcA
ROBOGARDA - https://www.youtube.com/watch?v=TMkTlCJKiew
Andy from Britain's Got Talent 2009 - https://www.youtube.com/watch?v=2H3fixFWHU4
Luis Boa Morte's shite house on Cribs - https://www.youtube.com/watch?v=pX2aGwTpMrQ
Depeche Mode - The Things You Said from Depeche Mode 101 - https://www.youtube.com/watch?v=pl3FsbyzUYE
Tom Fun and Derek - Derek's Birthday - https://www.youtube.com/watch?v=ezSX1gviUKQ
which exhibition have you enjoyed most?
Assume Vivid Astro Focus: Butch Queen Realness with a Twist in Pastel Colours Video Show at Tate Liverpool is the greatest thing i've ever seen at an art gallery and influenced me a lot. On the same day I saw Johan Grimonprez's D-I-A-L History, which is about equal in influence. It was a good day. I was wearing a horrible blue tshirt backwards and inside out because the night before i'd got tomato sauce down the front of it on the way to a nightclub, so spent about 15 or so hours drinking, dancing, sleeping on a floor, then going to the tate the morning after covered in ketchup.
which exhibition have you hated most? pls name and shame
There was an exhibition at FACT once that seemed to be nothing but loads of flat screen TV's and a rotating set of music videos on each with headphones so you could listen to Franz Ferdinand if you wanted to, it seemed like the most extravagant and pointless waste of money imaginable and it took me half an hour to remember i'd been to it because prior to that there's nothing else that even comes close.
​
thank you 4 speaking to us. this interview is amazing
you can find out more @ http://www.goldenharvestindustries.tumblr.com
+ photos by sean wárs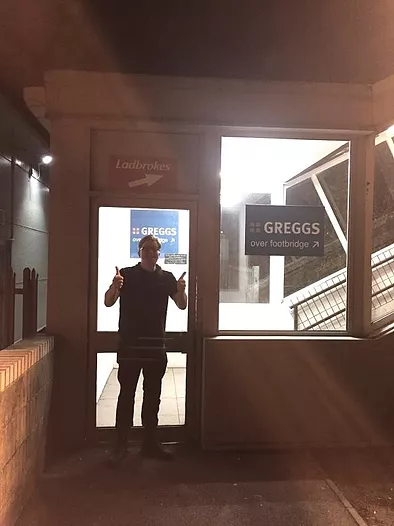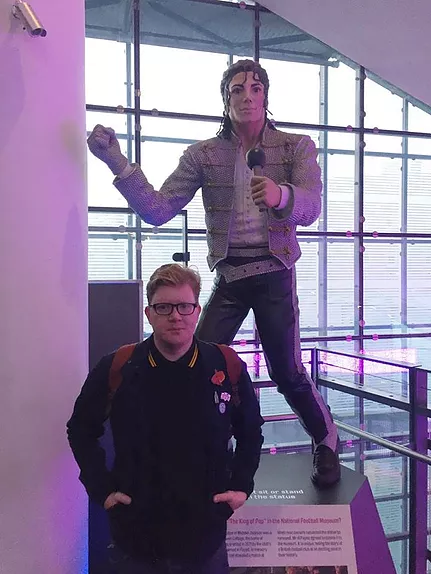 < BACK <