---
🎀🎀🎀🎀🎀🎀🎀🎀🎀🎀🎀🎀🎀🎀🎀🎀🎀🎀🎀🎀🎀🎀🎀🎀🎀🎀🎀🎀🎀🎀🎀🎀🎀🎀🎀🎀🎀🎀🎀🎀🎀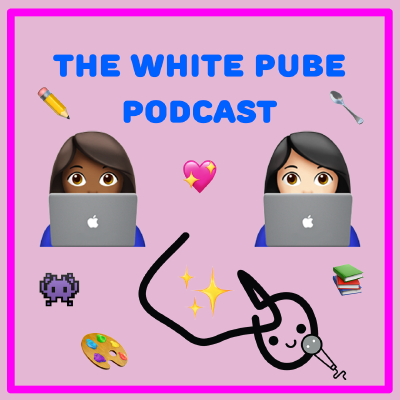 We usually have a different artist's work showing on our homepage every month but while we are in between artists, we just want to take a second to remind our readers that we have a podcast (and maybe remind our podcast listeners that we have a website? idk, we do so much stuff it is v hard to commmunicate it all clearly).
The White Pube podcast is available on Apple, Spotify, Google, Amazon have podcasts now??
Every Sunday, when we post a new text, we share the audio recording on our podcast. We also sometimes do random episodes about art and life + those episodes come with transcriptions. Here are some of our favourite episodes. Enjoy.
transcription here
transcription here
a GDLP review :)
a ZM essay :)
🎀🎀🎀🎀🎀🎀🎀🎀🎀🎀🎀🎀🎀🎀🎀🎀🎀🎀🎀🎀🎀🎀🎀🎀🎀🎀🎀🎀🎀🎀🎀🎀🎀🎀🎀🎀🎀🎀🎀🎀🎀
The other reason I wanted to share TWP podcast on our homepage is because we have been looking for a podcast sponsor for literally months now and we have yet to find anyone. If you are reading this and you are mister moneybags, our audience is primarily 23-27 year old women based in the UK. if these stats get you excited, feel free to SELL THEM STUFF through us, we have the ad space ready 2 gooooo: the podcast has had 91,500 listens since we started it and that's loads??? send us a lil email info@thewhitepube.com :)
IF YOU LIKE THE PODCAST, please leave a review or rate it on the platform you listen on so that we can show potential sponsors we are worthy
🎀🎀🎀🎀🎀🎀🎀🎀🎀🎀🎀🎀🎀🎀🎀🎀🎀🎀🎀🎀🎀🎀🎀🎀🎀🎀🎀🎀🎀🎀🎀🎀🎀🎀🎀🎀🎀🎀🎀🎀🎀