About Us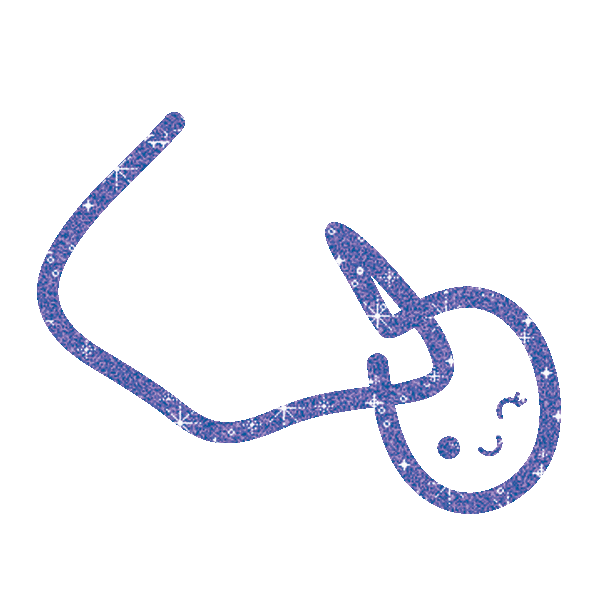 The White Pube is the collaborative identity of Gabrielle de la Puente and Zarina Muhammad under which we write about art, video games, books, food, life, the weather, whatever's in our heart(s). We publish a new text every Sunday, which also goes out as audio on our Podcast. Besides the writing and the podcast, we also run a Successful Funding Application Library, a monthly working class Creatives Grant, and two noisy social media accounts across Twitter and Instagram. We are blowing the dust off our YouTube channel at the moment too. If you want to read stuff but you don't know where to start, then we've got a best-of list here.
TWP origins:
Back in 2015, during our final year of art school, we had a chat about exhibition reviews and how they were either boring, lifeless, overly academic, or too polite. And they are basically all written by middle class white men and that's just silly at this point. We decided to start writing ourselves and actually state how art made us feel (happy, bored, angry, in love). We tried to write in a way like we were falling through our feelings and simply writing about art along the way. Over the years, we attracted a big readership and started to visit universities to meet students who were basically our age. In one of these lectures, someone would put their hand up in the dark and call this embodied criticism. If you wanna hear the full story from beginning to end, we made a podcast episode about it here.
TWP now:
Zarina is in London and Gabrielle's in Liverpool. Our office is literally WhatsApp. As the years rolled on, we expanded our writing beyond exhibitions and now we cover all the little bits of our lives here on the website. We really love writing and can't believe we get to carry on doing this for our jobs. We are also grateful that we get to use our platform to criticise some of the scarier goings-on in the art industry. We hope that we can have an impact in making the arts a fairer, safer, more accessible, and more enjoyable space for all.
TWP lifeline:
We can only continue to exist because some of our readers support us through a Patreon subscription, or through one-off donations through Paypal or Ko-fi. Each of these services is a little bit different. On Patreon, you can give us £1 or more a month, or pay for a full year in one go, and in return you can redeem stickers and postcards. On Paypal, you can send us a one-off show of support. And on Ko-Fi, you can do either a one-off tip or a monthly one instead. If you donate to any of these, we can send you an invitation to our Discord server where we hang out with readers and also organise regular group crits, individual crits, and online studio visits. It's a really lovely place. We love our readers!!!!! :D
VBW, GDLP + ZM
~💧💧💧💧💧💧💧💧💧💧💧💧💧💧💧💧💧💧~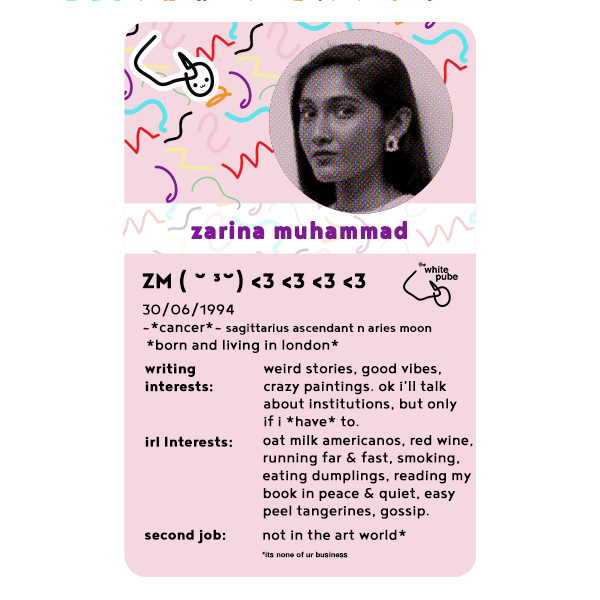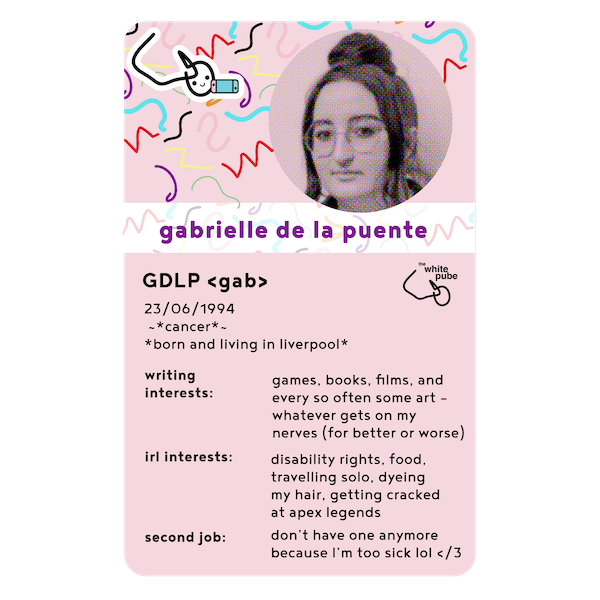 The White Pube web residency is an opportunity for an artist/whoever to takeover our homepage for the month. From Miss January to Priestess October, we have seen exhibitions, short stories, installations and archives, all sorts of things. It's been great. Mostly we contact ppl to offer them a residency, and sometimes it is after someone has put themselves forward via email (info@thewhitepube.com). If you email us, just let us know who you are and give us an idea of what it is you want to do for the takeover. Please note: we prioritise artists from marginalised/precarious groups with the residency and so pls bear that in mind when submitting yourself.
From 2016 - 2018 the residency was unpaid. We started to receive £200 a month from Dazed to write an advice column and we started to use that money to pay current residents £100, and backpay previous years' residents £100 each too. We've paid 2018 & 2019 residents, and are currently paying 2017 & 2020 in conjunction. The Dazed column was ended in lockdown and now we make current + backdated payments to residents from our Patreon income instead.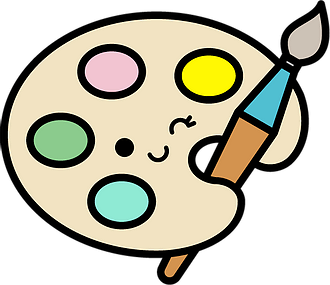 See all previous residents below: