Fahrelnissa Zeid @ TATE MODERN
ZM
Emoji summary: 💧 💃🏾  👓
I have been missing/radio silence for a few weeks now (nearly a month) and I am sorry friends. Gab has been a good collaborator. She covered for me while I was upstream; swallowing a sadness that never really landed. I am halfway happy now again. I was hoping I wouldn't have to write through heartbreak n i don't have to now. So here I am here I am; hope y'all missed me. I only mention this because I've been feeling The White Pube as a type of vlog. Like that format; here's what i am filling my life with at the moment, and here it is pressing onto my relationship with art. I always say; when we are 70 looking back at this website, i hope it'll be the same feeling i get when I think of my old piczo: 'fuck, i was so young'. just like looking back at ur past self like she's so different to me and alien but that was my body /// there's a kinda of horror to that but i'll let it slide.
So I went to the Fahrelnissa Zeid show @ Tate Modern. This show was a proper PROPER retrospective. Her life stretched out over a couple of rooms. The art was like 50% of the show; the other half was my kinda romantic friend-infatuation with this worldie woman /// international woman of mystery. There's something so romantic bout her life: daughter of at Ottoman family // wife of a diplomat // rich European salon life // painting for the love of it, my god that must have driven her // why else would she? // I wish that was my life: wearing expensive clothes, social and hard capital, bouncing around the world like a stateless bird.
I'll be honest, some of the work i wasn't keen on. Some of it i could give or take. Others i zoomed in close; sweaty hands holding my phone wanting to remember this exact painting. That bumpiness and inconsistency kinda was the show. Every room felt like a different theme like ur in Fabric or like Egg or whatever. RnB room vibes n then top 40 EDM remixes the next. Some of the paintings are like tiptoeing into abstraction; some trust-fall into it completely. Some are weird alien figures cartoonish. It's a jarring experience tbh so eclectic, i still am not quite sure if i was taken by it or not. Having said that,,,, it definitely left some kind of taste with me; sitting in my mouth like gum. There were a cluster of paintings that were just colour unbound. Like colour if colour was liquid seeping and spilling onto the floor;;; all swirling into one but sharply sharply crystallised. It made me feel something and for that i must stand up a bit straighter. Another (pic of both on right >>>) felt like a visual reference to that painting in blue of the boy holding a snake (the super orientalist one) (((googled it: it's Gerome - the Snake charmer))) but the fact this was being retaken and mashed and by a Middle-Eastern/central asian Woman kinda make me smirk. I lingered and snickered. I love being that person - laughing to myself in a half-empty gallery space. ~v powerful~ ~ ~ ~
I think that feels like the show. I don't have much to say about it; but i respect that it happened n I wana shout it out. More more more like this. I respect Zeid's life as much (maybe more) than I enjoyed her paintings. And tbh i liked that feeling of going to a show and feeling comfortable in the room; that doesn't happen often, not at the Tate Modern. (Maybe that was just bc it was a hot day and there was air con in the gallery lol). This show felt sticky though. Like when u open a packet of wine gums and all the flavours have melted into each other and it's one sticky long lump. I think it would've been a better documentary. But i'm not mad. I enjoyed seeing that historicity embedded in a gallery. I actually like the way that bends. (i don't go to many retrospectives, maybe i'm mostly infatuated with the format? idk, i can't tell i can't separate that so i have to just lay it all here).
I think mostly I was sad I saw this show on my own. The whole time walking around my left hand dangled in the air next to me; i wish someone was holding it. The pace of this show was so moderato;; not allegretto // not too ambling. This is a Saturday afternoon with ur person. This is a got nowhere else to be, let's pop our heads in. This is a we've got lunch plans nearby. I'm mad they charge for this show; it'd be so good if it was also free. Borrow ur mate's aunt's membership card; don't pay (i didn't) and when ur done go to the member's cafe on the 5th floor and look over the river with ur person. I hope u buy a Coke bc they come in a glass bottle. I drank mine with a straw like I was in a Lana del Rey song. I sat out on a balcony and i felt the breeze while i typed this. It was a day with myself, but a small part of me wishes I had more than just the art for company. It wasn't quite enough. It felt like going through a scrapbook or a box of old photos (i imagine most retrospectives normally do). The thing with that is, it's never as funny or enjoyable when ur on ur own.
Fahrelnissa Zeid's retrospective is on @ Tate Modern until 8th October.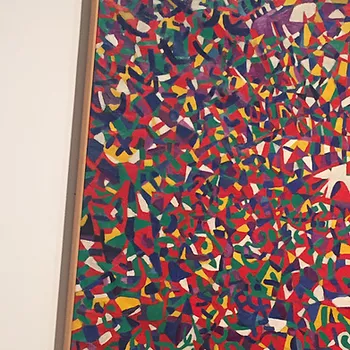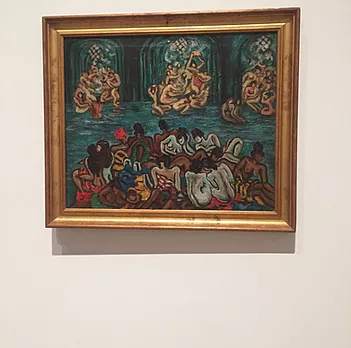 above ^^^^ painting by Zeid
below vvvv nonsense by Gerome