how much we made on the print social campaign
We usually do a merch sale about 1x a year. In 2020, this is how much it cost us to do merch on our own, and this is how much we made: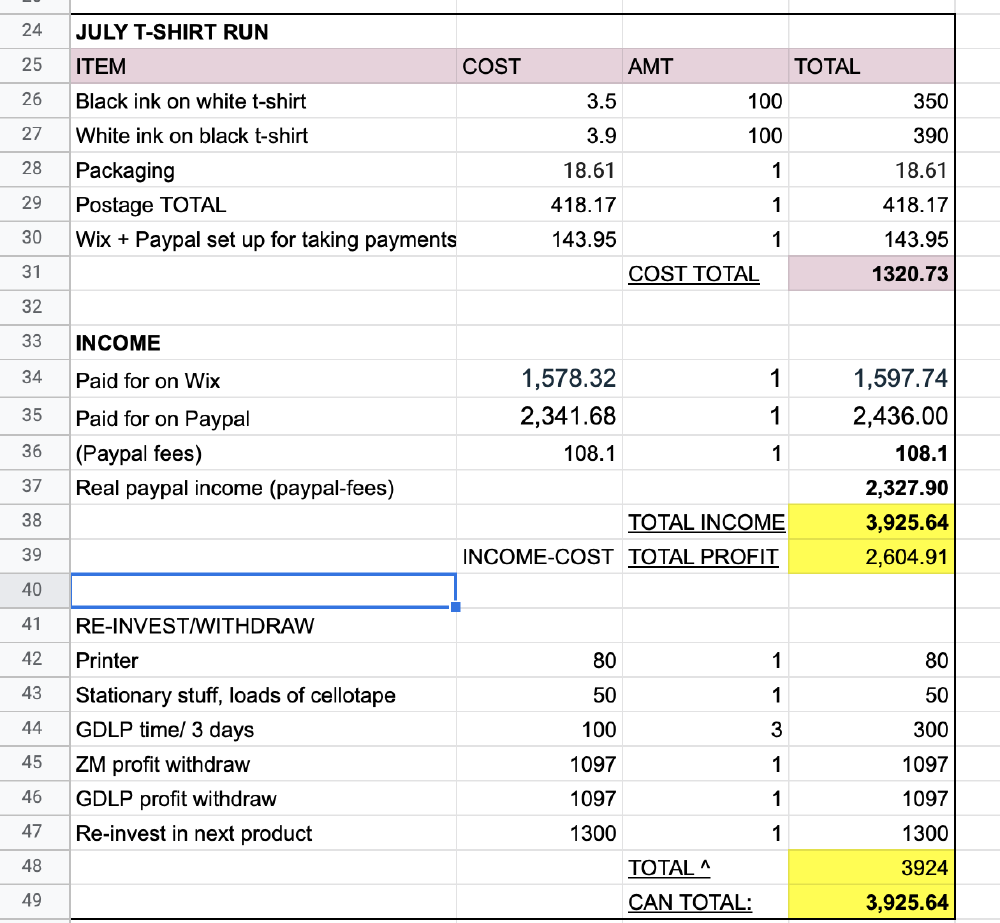 Our website was on Wix then and we paid for it to have a built-in shop. The merch sold out in like a day if I remember correctly and we made £2604 in profit. I (Gabrielle) fulfilled all of the sales which took me about 3 days to sort out and it was a hefty admin job, and quite physical too. I did it again in 2021 after I had gotten sick and it took me about a week. It was very difficult and overwhelming, and I swore to never do it again. In 2022, we wanted to do merch but a few things had changed. First, me being sick and admitting I wasn't a fulfillment service, and there was also the fact our website had been transferred away from Wix and no longer had an in-built e-store. (We actually used all the 2021 merch money to pay for this website, and it kinda kills me that it doesn't come with a shop. Anyway).
In light of these changes, and with our new scary writing schedule, we thought now would be a good time to sell merch through a third-party. We got an email from Print Social, had a lovely chat about the possibilities (they are genuinely so nice and helpful - it's just a tiny team of people doing this), we took our time to think of the merch we wanted to do, and then we went for it. Print Social makes merch to order and campaigns only go to print if 5 sales of any given design are made.
So, how did it go? Good and bad. There are things I'd do differently. Obviously, we had been used to earning a really good amount through merch and I knew we wouldn't make as much doing it this way. When the final figures came through though, I was pretty disappointed. The split depends on the design; on how many colours are used in the print, and if it's got a print on one or two sides. And fair enough. But we ran a campaign for 7 days and it was slow compared to our previous two times doing this.
For example, one of the bags sold £72 in total but we only saw £2.74 of that. The Critical t-shirt design, which is the one we have used in previous campaigns, did best. But we saw less than half of £760 in sales. I am saying this all with the caveat that all money is welcome right now Given The State Of Things, but it is tricky wrestling with the fact we could have made a lot more if we had the time and means to do it ourselves again.
Here are screenshots for each of the items we sold through Print Social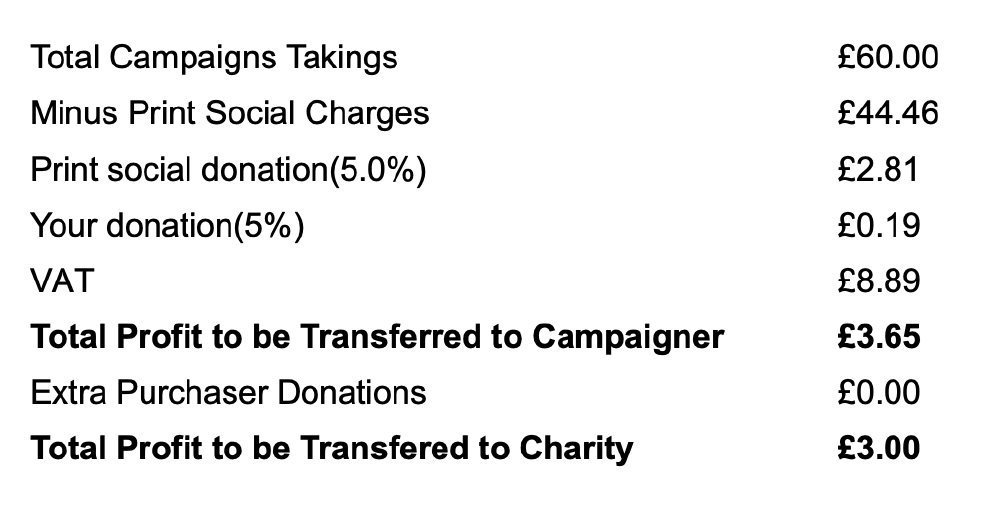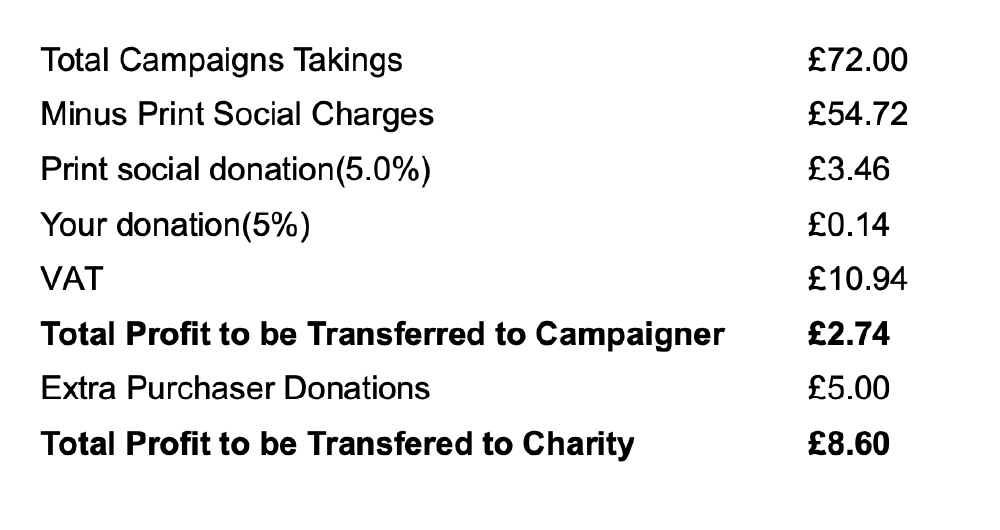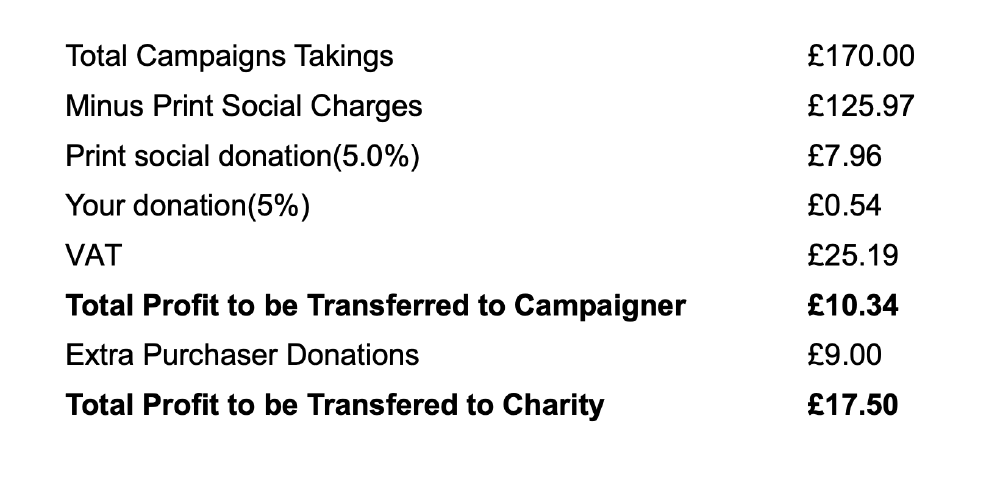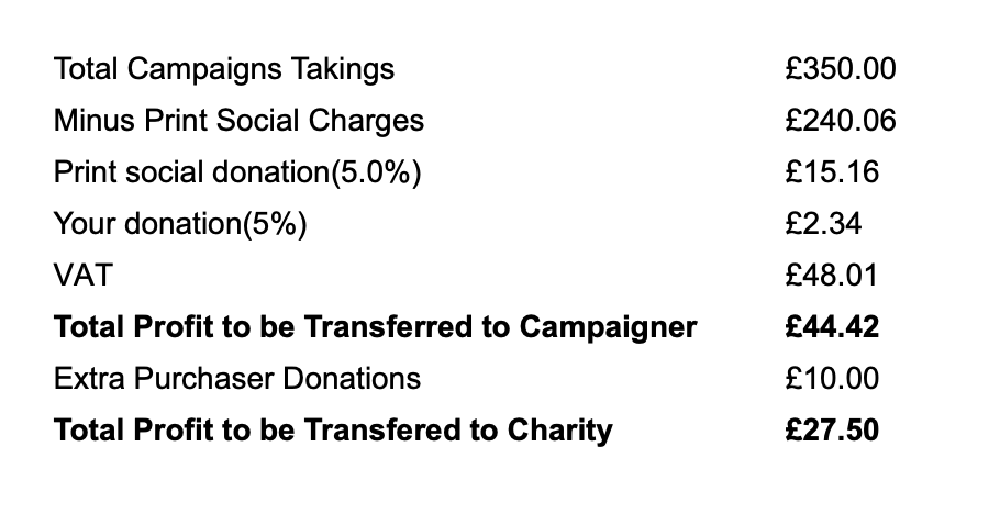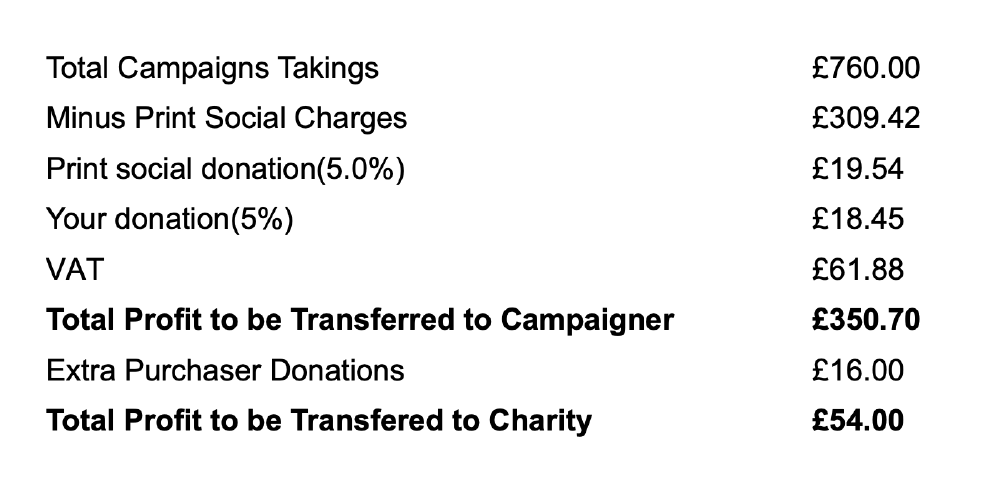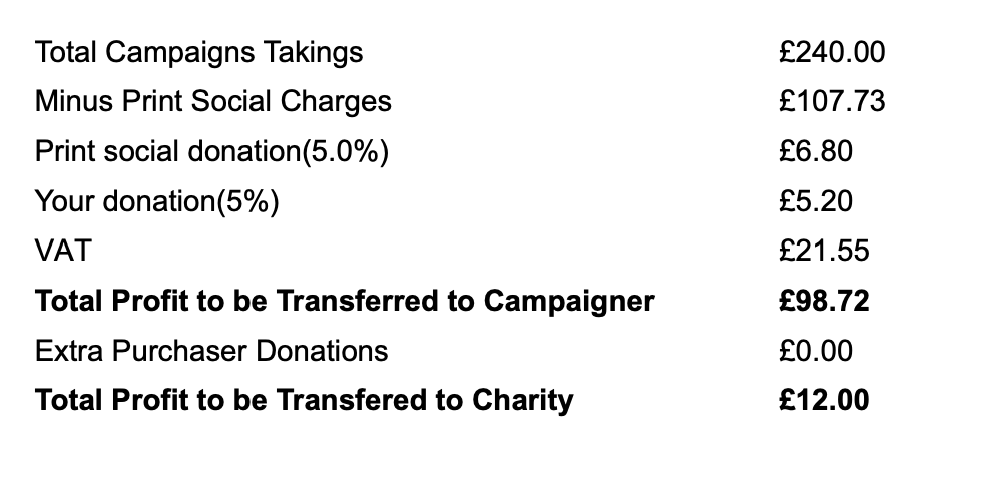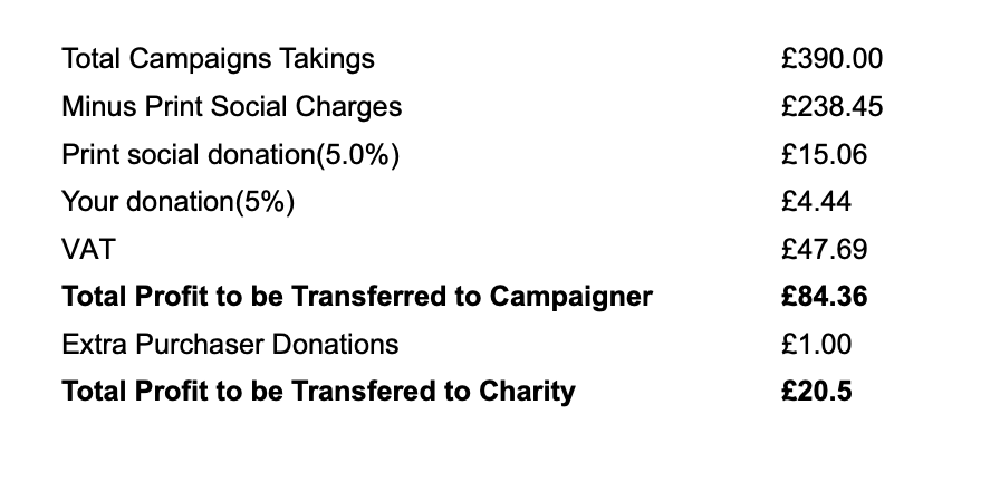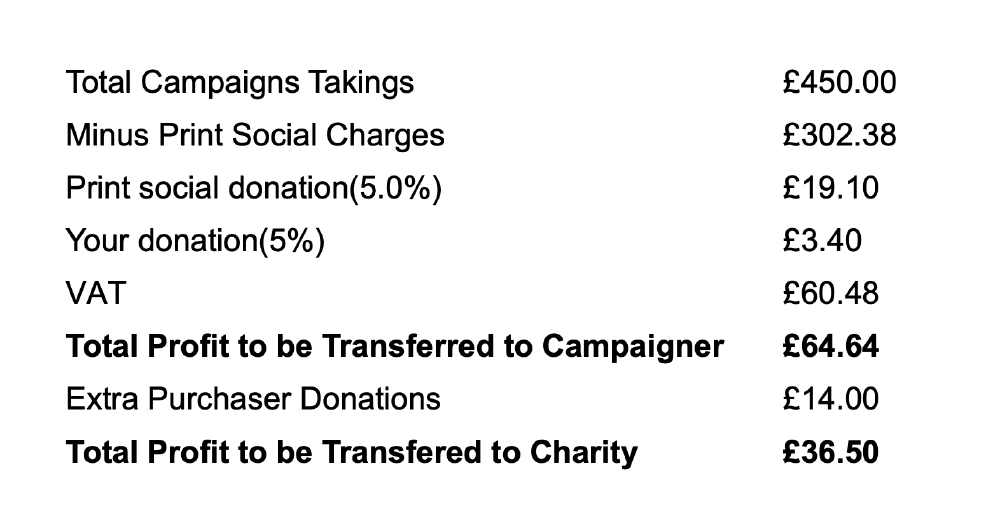 It's hard because on the one hand – and it's a big hand – it saved us a job, was more environmentally friendly (except… all our previous sales did sell out so idk), and I also love the quality of the products, genuinely.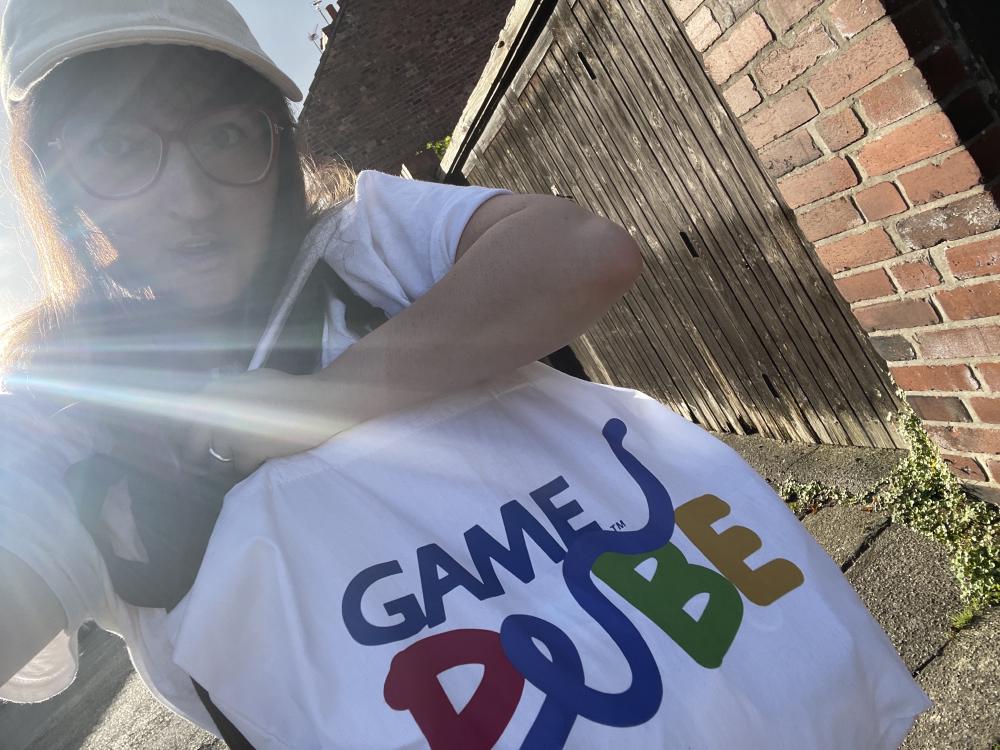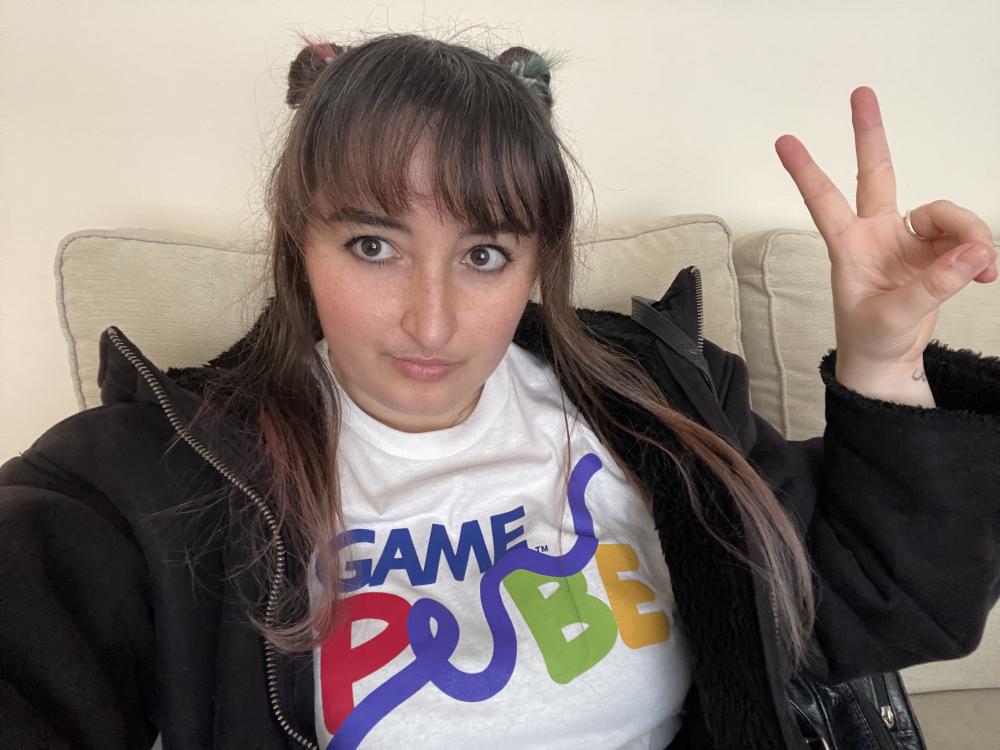 On the other handdd, loss of income isn't totally to do with the cut Print Social take, which I assume is a fairly reasonable cut for their production and postage. I know how the Internet works and I guessed we would make less money with a shop that was situated outside of our own website because people don't love to venture elsewhere. I was also worried about the # of sales overall because we couldn't get any samples from PS to take pictures of items ourselves for advertising. I usually force Zarina into modelling! It is so handy having a model in The White Pube! I knew people were going to be less likely to order something if they only saw a digital render. And yeah, I think that happened here.
If I used Print Social again, I would
do one or two items. I wouldn't split sales across so many different things (one of the bags didn't make it to 5, so I had to buy one to push it over the edge)
sell the pieces we bought ourselves this time around so we could have good pictures for future advertising
focus on one-colour print designs for max profit
lower my expectations; it's never gonna be as successful as a self-run campaign on our own turf and
give people more warning. Even though we did a 7 day campaign, which we thought as long compared to do 2 day sales we have done in the past, a few people got in touch to say they missed the window. I think building hype beforehand could have been helpful.
The Game Pube design in particular has already had at least 5 requests to put it up again so people can order, and to be honest, when it comes to things like that I'm not even really thinking of profit. Because it is nice and funny to have something and become part of a club (the game pube is a discord server I've been running for a while). So you know, that's also worth saying. If you just want a way to make t-shirts for your own project that involves 5+ people, I would definitely use this as a service.
I might have thoughts about this at a later point + come back to update but I'll leave it at that for now. I hope this is a fair analysis, or something useful to think about if you are looking to do merch yourself.