WHAT I SAW LAST WEEK: 16th October
okokok bang up 2 date ! last week was fun! saw some trad art in a gallery stuff, saw some stuff that felt like culture but exploded. doing these lil culture diaries is an interesting exercise bc it makes me really stretch the container of what i'm willing to call culture.
i mean, everything's culture if i think about it, right? telly, cocktails, dinner, music (obviously). but new trainers too (therefore, tax deductible yessss). kitkats. date night. alllll of it tax deductible culture. i love my job.
TURNER PRIZE!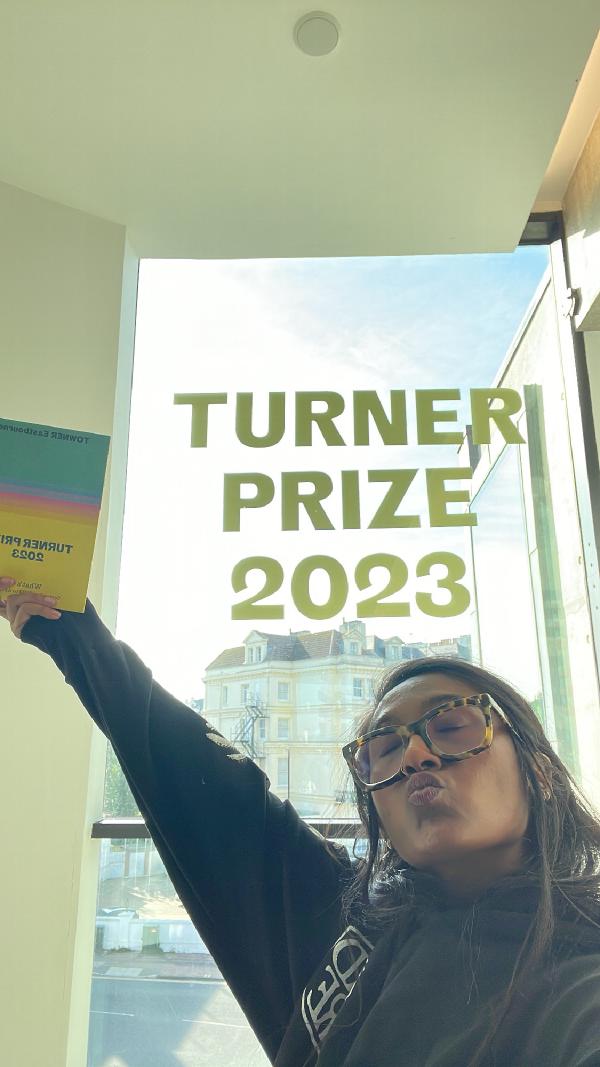 yesss, Culture with a capital C - arguably, this is what people think of when they think of the art world. i popped down to Eastbourne to see the Turner Prize at Towner. I've never been to Eastbourne before! granted, i didn't see much of it (just the station, the gallery, the seafront & the roads in between). so: a lil run thru, just for u :) »»
Ghislaine Leung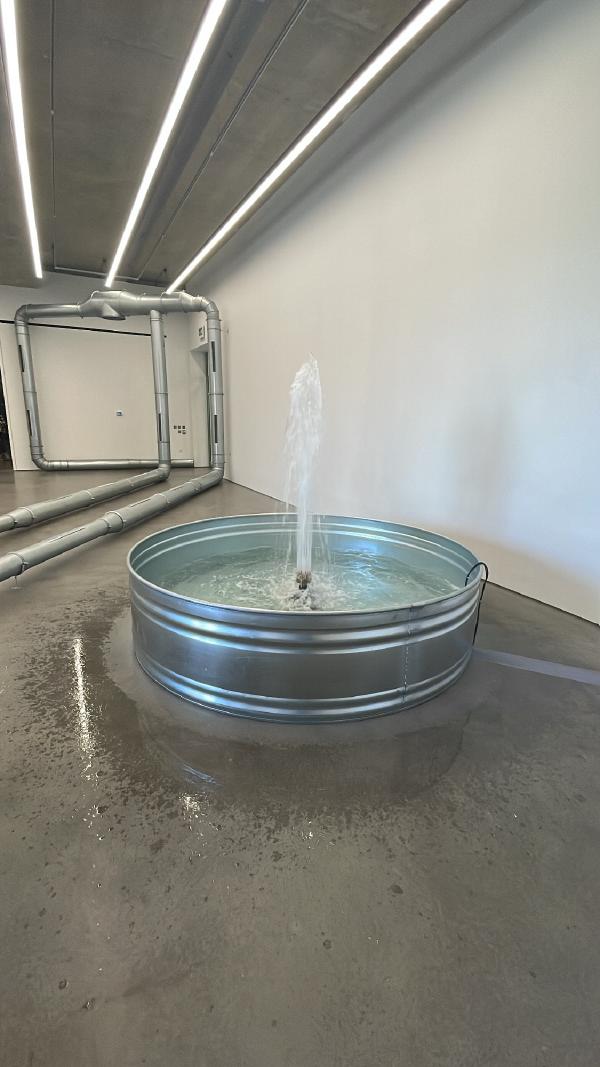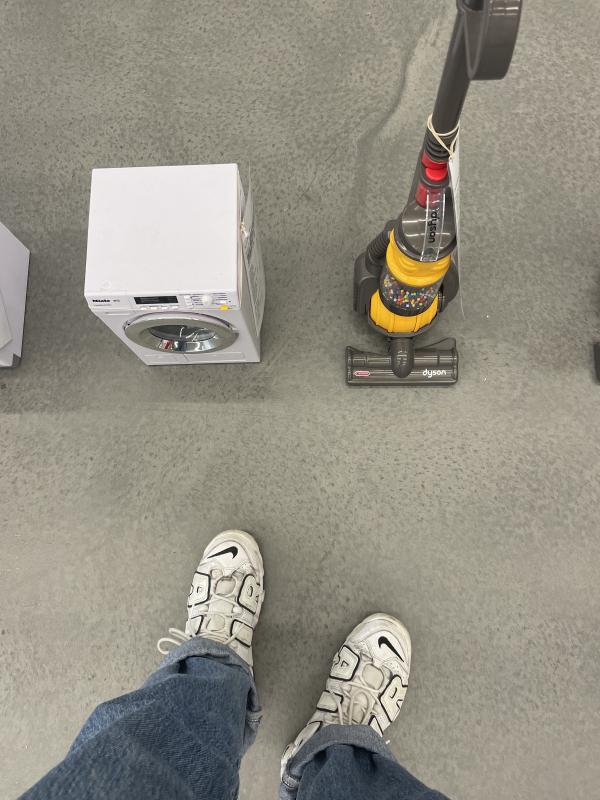 first up as u walk in. Ghislaine has got 5 'score based artworks' - these scores are something the artist developed as a unique form - the scores are written instructions realised by the gallery team at towner. there is: a drawing on the far wall that represents all the hours GL can dedicate to artmaking, a fountain, enormous vents, a baby monitor, a line of toys (washing machine, houses, hoovers) borrowed from a public library in Reading.
I say scores, and it kinda feels v hard sharp conceptual, cerebral, but the work is also collaborative, a kind of exercise! in art making! it's testing the limits. but it's also v much about LABOUR and CONDITIONS! the stuff that goes on around art that makes it possible for art to be made by artists in the first place. and the collectivity in acc making is kinda part of that labour politic under the skin of the work. really interesting. i don't know too much about how it feels to be in the room for other people, but i felt like sherlock holmes, runnin around tryna piece together all the lil clues to make the objects unlock themselves and their meanings for me.
Rory Pilgrim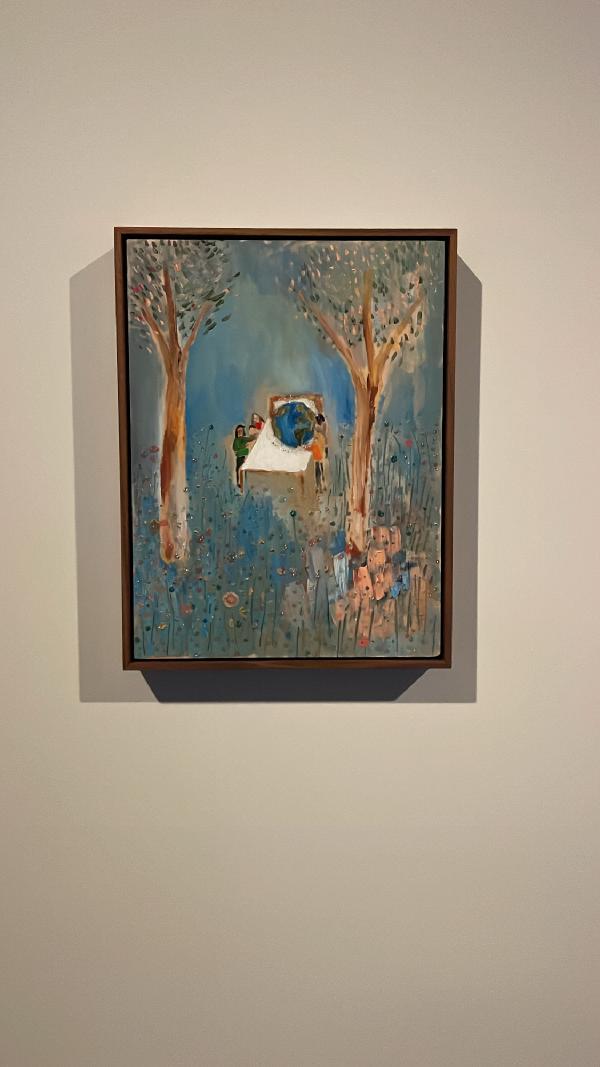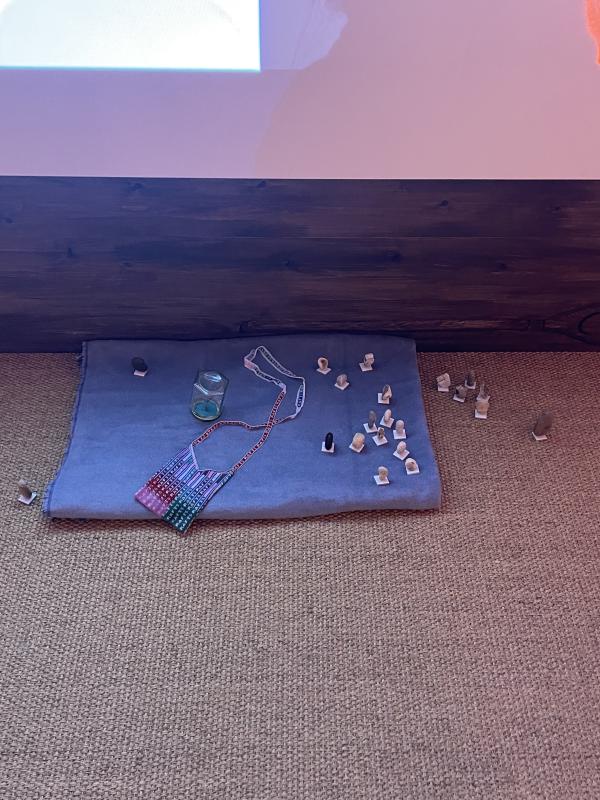 Rory had this massive room that felt like a chapel. the main work was a moving image work called RAFTS. Produced collaboratively over lockdowns, it's a 'seven song oratorio narrated by residents off barking & Dagenham', the participants put the text together by thinking about what a raft means to them.
I spent a while waiting around for the film to come on, during the intermission this zoom tile holding screen popped up and i kinda thought it'd be more documentation? but it's a full on Production. It's like a music video with roving camera, mipsyncing, it's glam? it's theatrical? it's fun? it's great! there's an orchestra!
round the rest of the gallery the walls are lined at odd points with all these wall based works – tiny detailed drawing and watercolours with tiny scritch-scratchy mark making, so intricate and sweet. like the kind you'd find in a kid's book about woodland creatures that go on an adventure. i loved it. some of the works used glitter nail polish. they were really sweet, they felt homey, and warm.
Jesse Darling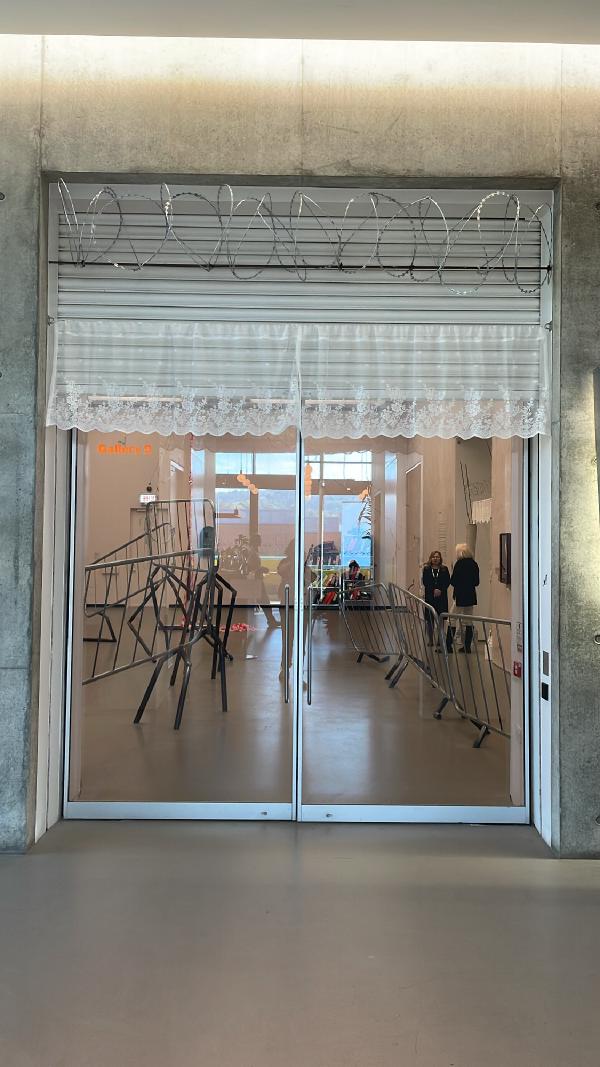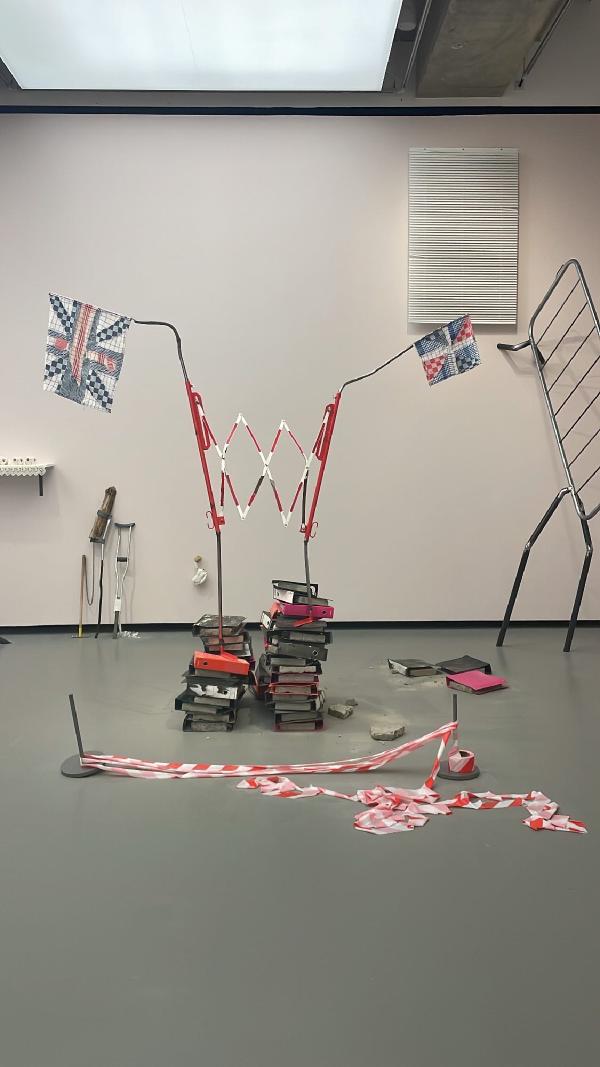 Jesse's room is a full on exploded installation. Apparently JD was welding and soldering in the gallery, which is very glamorous very cool very hardcore etc. these sculptures choreograph your movements through the space: the weird staggering barriers. the post-apocalyptic maypole. the flag waving book stacks, looking like sad patriots. barbed wire adn lace curtains.
i think this was everyone's favourite – when i walked round everyone seemed to be really compelled by the broken twee nationalism on display. Jesse's work takes the ordinary objects that do actually make up public or civic life: the barriers the flags, the blinds you normally see in office buildings. he fucks them up and we (I) almost feel glad for it? like there's a part of me that also wants to destroy the bureacratic surroundings that make up civic life. because the work speaks to the Failed: the failed state, the failed civic body, but also the failed personal body (the staggering barriers feel like people who are not too steady on their legs, the sad flag waving patriots feel frail and there are crutches everywhere). so it's like big body small body, big political small political, big failure small discrete failure. collapsing the space between them.
it's !interesting! to ask around and see people really fuck with that. i wonder what that says about the world we're living in, the way we all feel about that world too.
Barbara Walker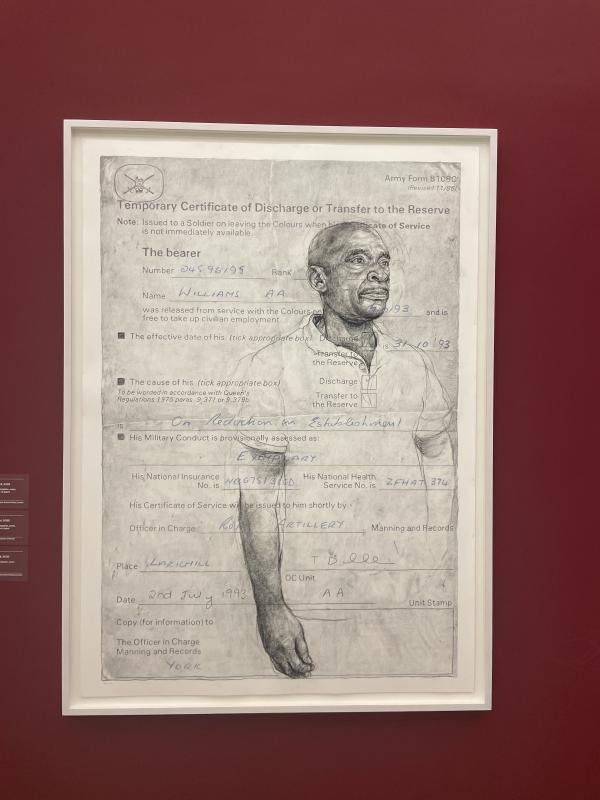 drawings! on paper and on the wall! Barbara Walker is just very good at being an artist. these drawings are pretty spectacular – just to think about the artist shimmying up a ladder & drawing on the walls of the gallery. Walker is presenting a body of work called Burden of Proof which: 'brings careful attention and visibility to individuals and families affected by the Windrush scandal' — cast ur mind back to 2017 when reports emerged, revealing the injustices faced by members of the Windrush generation who were denied their lawful immigration status.
the drawings are portraits of people affected by the windrush scandal, portraits that are then layered over meticulous drawings of documents, the evidence that helped to prove the legitimacy of those the British government had wrongly labelled as 'undocumented migrants'.
i mean — no borders etc, yes. everyone is legitimate, no human is illegal, borders are literally fake and murderous. but this is work that gives us a way of talking through the way borders are policed, bureaucratised, the way people and their human ness is flattened into the paperwork of it all, body and document interrupt each other and also become one. it's pretty beautiful.
FINAL THOUGHTS
i have none. i still think the turner prize is just kinda not show-y enough, and also too spectacular. they should go all in or reign themselves back. just go all out and do an x factor format where artists have to do live televised auditions with public votes, or just stick to a group show with 4 solo presentations. there's no way for me, in this middle ground, to have any other thought than 'i feel like this is a compromise' – formatically speaking lmao.
that being said, i think it's interesting that this year and last year it was back to single artists with their solo work, after all the collectivity of '21 & '19. i think that collectivity was really interesting and needed, and it's sad to see it snap back. i think Veronica Ryan winning last year, after a nomination for a (yes for a solo show at Spike island, but also) public sculpture commission – that was really really interesting. i don't know what the TP actually genuinely needs more of, bc if it was up to me, it'd be that x factor public vote – but collectivity & artworks out in public don't actually seem like too bad of an idea.
I THEN WENT ON A PANEL TO SPEAK ABOUT IT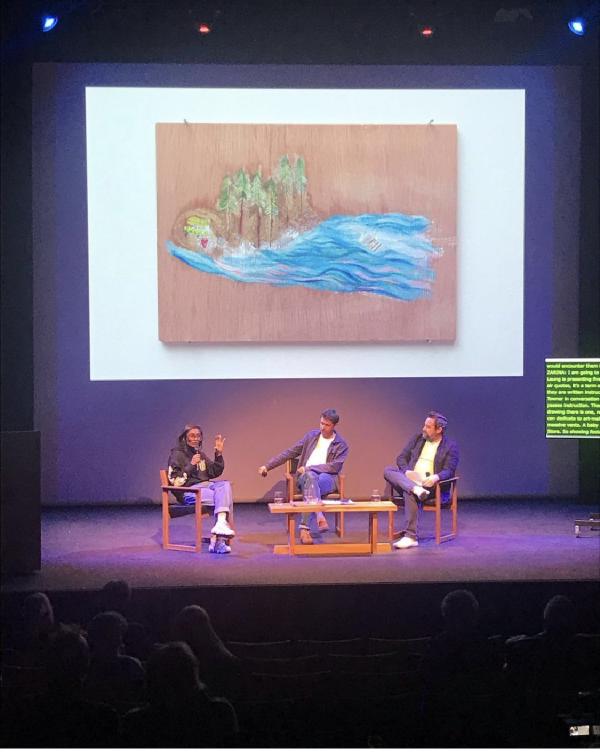 then i was on a panel at the University of Sussex to chat about the Turner Prize with Ben Burbridge (Head of History of Art, who chaired) & Joe Hill (Director of Towner). it was really fun! the lecture theatre at sussex is so glamorous and showbizzy, it felt like i was doign a ted talk, and there was a little proper dressing room for us to wait in before we went on stage – which was funny. i also just learned loads about the turner prize? like, i was born in 1994, i don't actually have a memory of any of these famous historical moments. i kinda know some of them, but as History, not as like,,, events that happened. it was really interesting and educaitonal to chat to ben & joe, who both knew so much about the actual prize and had so many opinons about it based on that knowledge. truly i had loads of fun!
IT'S NAVRATRI!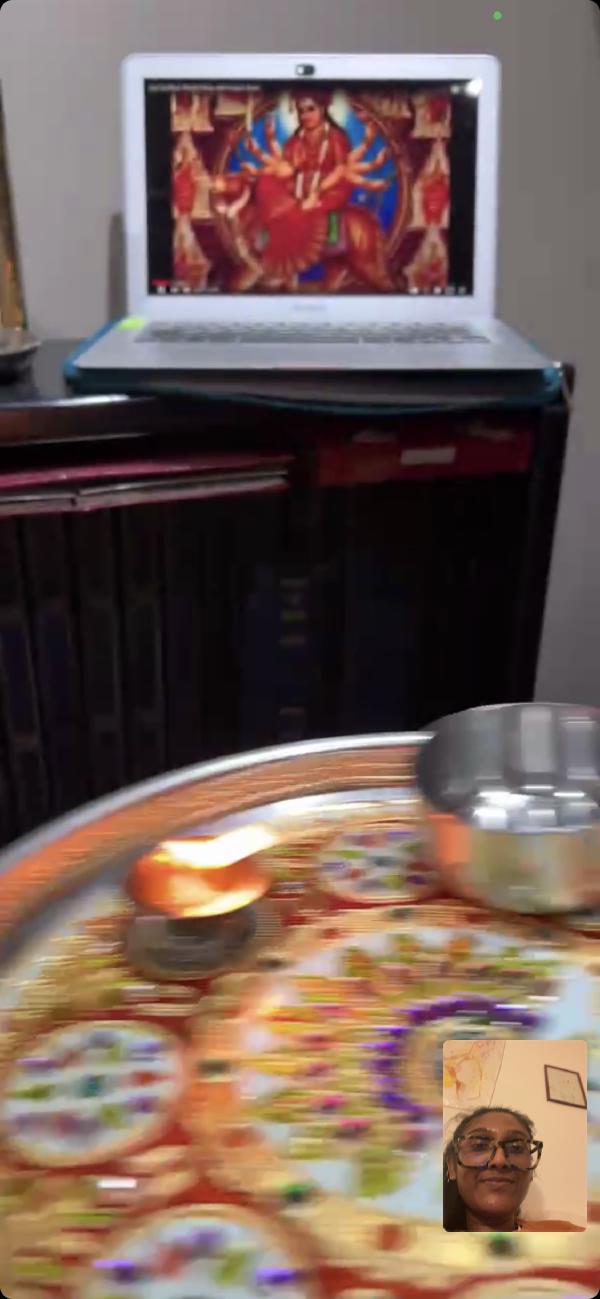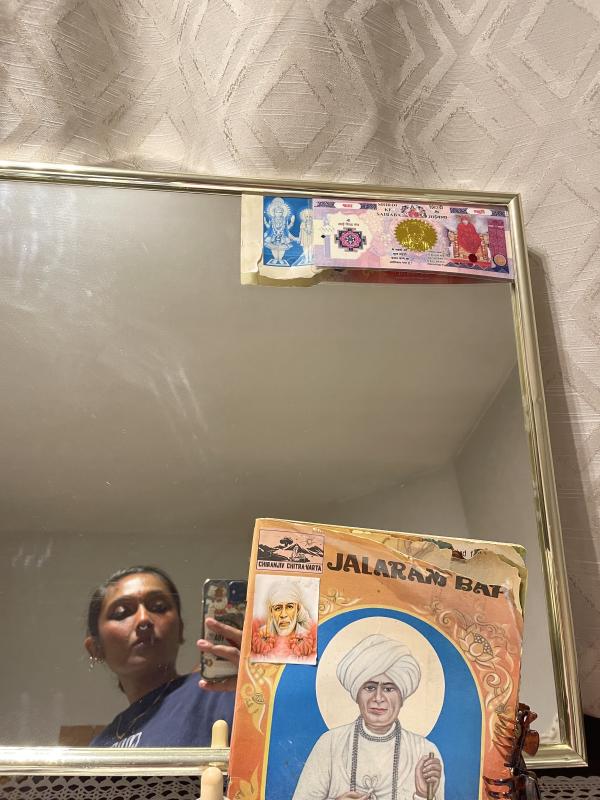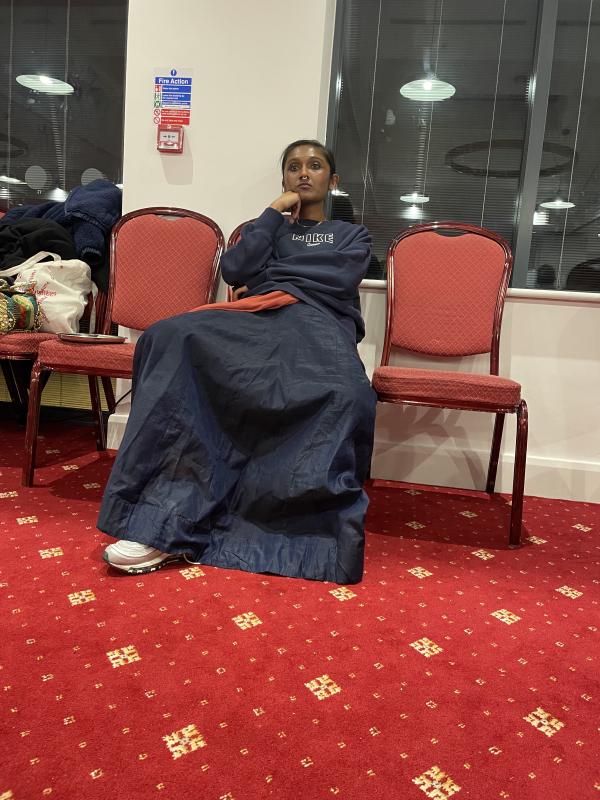 ok, yes. even though i am muslim, my sweet lil mum is hindu. and gujarati! and she loves navratri, so it's always been a fun week to get together w family and go to the garba and have a lil dance and a lil snack. i kind of love it? i wonder how dance and hymns and prayer fit into my wider cultural landscape – mostly the idea of it being CULTURE makes me cringe in a diaspora artist kinda way, but ykwim. folk culture! i always wana know what the british equivalent of garba is. is it morris dancing? or when they sing to apple trees (so cute) – i wanna go wassailing!!!!
SHIBARI!!!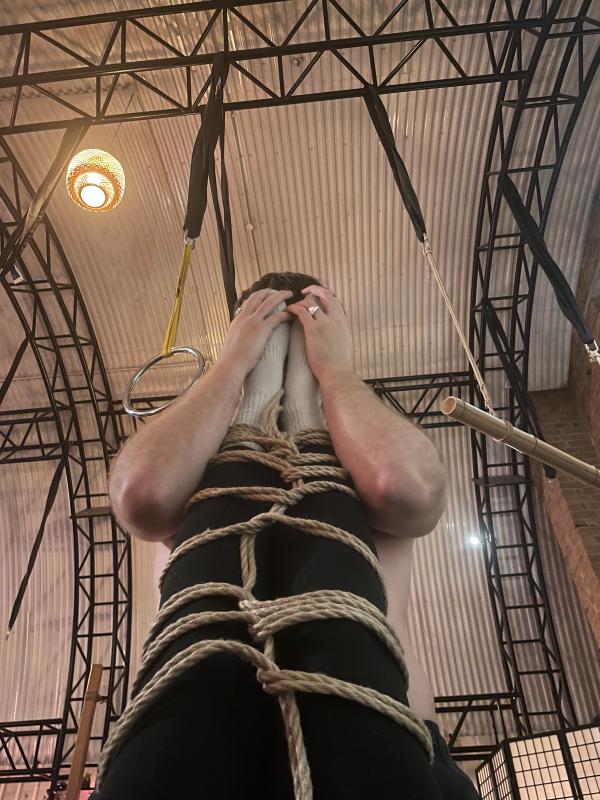 went to a Rope Jam at Anatomie Studios down in Peckham. it was really interesting!!! not to give you Too Much Info about my private life (none of ya business, you nosey people) but on a level as a critic – it was interesting to see a workshop format be involved, practical, about bodily-ness and connection. (interesting bc art workshops are not rly on that kinda vibe level ygm?)
they walked us through a couple of ties for us to try out and we just got on with it – which is great because i really actually do have a genuine problem with authority. hate being told what to do, hate organised fun, hate having to meticuously follow detailed instructions. flat pack furniture is about the closest i can get to following instructions without feeling like i'm gna explode. but they just kinda showed us things we could try out, and walked around to help and answer questions person-to-person. like it was all really calm.
the person leading the workshop stood up at the beginning and gave some backstory – the studio started in their living room and they've tried to keep that vibe going even now it's a formal studio. so it was shoes and coats off at the door, through a little hallway kind of vibe, into a space that's lit all warm with all these lamps and little plants and stuff. it was pretty cool! cute and cosy and i had such a nice time. if you're new to This but think you'd be into it, or are down to explore it with someone, i'd actually really recommend going and being nosey at one of the rope jams – i think they have a really good balance and format that worked really well and had a really great vibe.
i will say tho: it's a vibe i still haven't sussed out. like it was a sexy thing, as an activity, but the actual vibe in the room wasn't sexy in and of itself. like it wasn't a fucking orgy. sex was just kinda under the skin of the activity, like a splinter we were all probably aware of but not mentioning. and that was reallllllllly interesting. never experienced that before and don't know what to make of it. like i'd have been less bamboozled if i'd walked in and there actually was an orgy going on. but i say all of that knowing that the under the skin of the thing vibe is kinda the only way for this workshop to have been – not a critcism or even anything negative, just a neutral thing that i noticed and found curious in and around my 10/10 enjoyment of the workshop. deffo prefer shibari workshops to art workshops, for the record.
SHENECE ORETHA IN FINSBURY PARK STATSION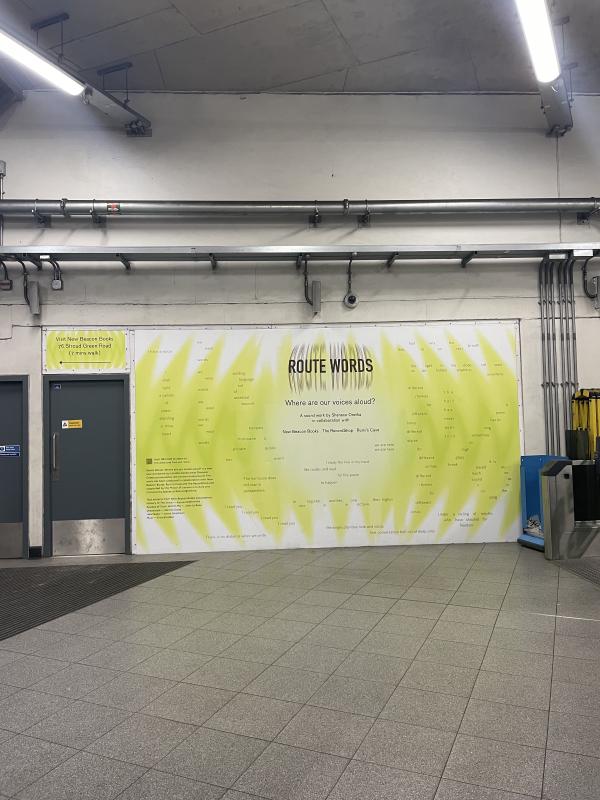 for reasons that'll become apparent on sunday (hehe) i'm really interested in art on the underground atm. i keep seeing these posters for shenece's work with Art on the Underground – Route Words – and finally gave the work a proper listen. apparently sometimes they play it on the tannoy! i think that's so cool. but that's literally all i can say about it hold tight for sunday.
SPEAKING OF THE TUBE
have u done that tube station quiz where you have to name all the stations you remember? harder than it sounds. i am v proud of my 84% result, and i'm now convinced i'd be a really good cabbie. like, i just know so much about london geography (born n raised yeyeyeyyeye) i j don't know what the average good score is? pls lmk :)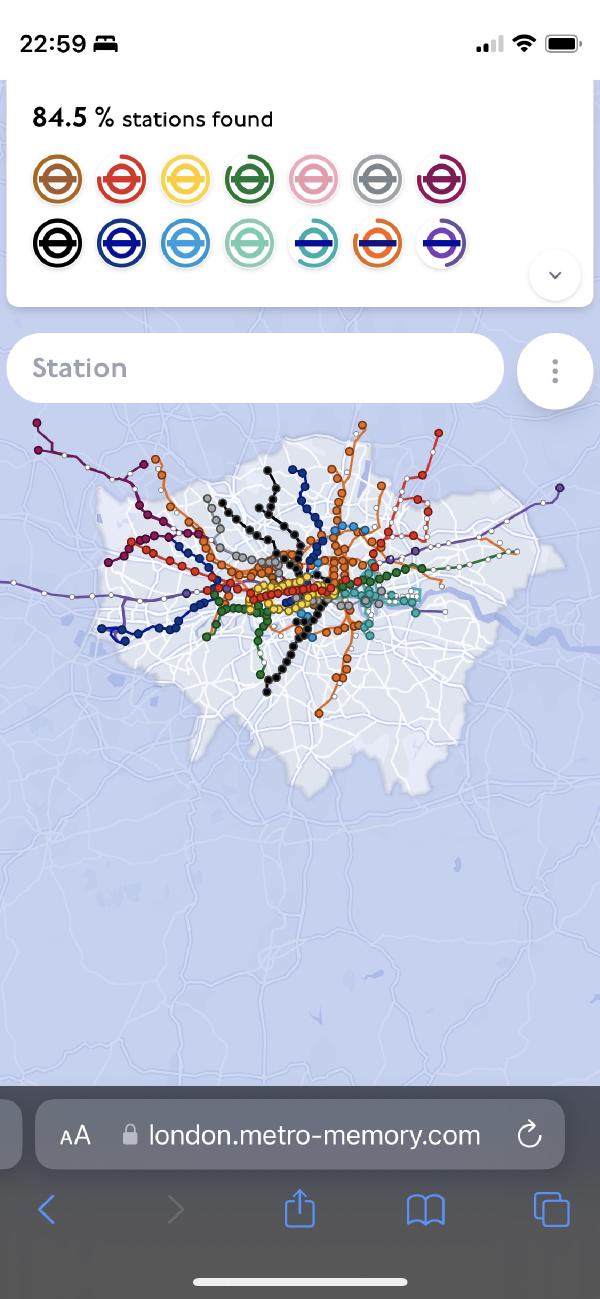 FREE PALESTINE
Please email ur MP, if you haven't already, and ask them to call for a ceasefire & to stop the war in Gaza