WHAT I SAW LAST WEEK: 23rd October
i never manage to get out or see much when i'm writing! i just enter the closed pocket of the TBC text, it consumes my every thought and every hour of the day i am awake. it's like those blinders you put on horses so they don't get distracted by the street around them while they're clipclopping through the town square. but! i do have some bits for u. not really art, but culture at large! a more expanded definition of culture that includes all the odd bits and bobs that make up our cultural landscape.
House of Flamenka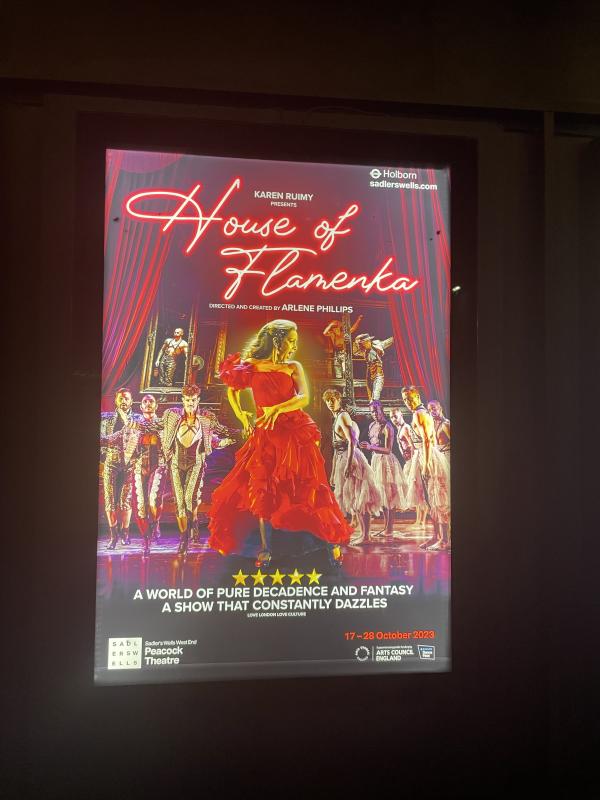 listen, i love my mum. i really do. she has been absolutely dying to see this because she LOVES strictly come dancing (all the costumes! all the drama and gossip! they get soooo good!) and she saw arlene phillips on the news or on some breakfast show talking about this. she has been trying to get out and about to see more stuff and become more culturally enriched recently, which i LOVE for her! not sure what's driving this cultural kick, but i am soooo here for it. anyway – my mum booked the tickets and has been dying to see it. i didn't really expect too much because of the spiel she gave me: strictly! arlene! those saucy flamenco dancers with their bare legs and castanets! i thought this would be a little show for middle england.
I WAS SOOOOO WRONG, this was amazing. i knew i was wrong in the first minute because these dancers with leather harnesses under their boleros came out doing slut drops, and a girly in a sparkling jumpsuit was singing this song that sounded a bit like a mediterranean resort club hit. it was beyond high-camp, it was like… i felt like it would be genuinely potentially shocking for the british pensioners i was sat on a row with. BUT THEY LOVED IT TOO. i looked over and the old dear next to me was CLAPPING. she LOVED IT! they were throwing it down to like bad bunny and rosalia. they were EATING IT THE FUCK UP.
it was really spectacular! and so interssting – this wild and heady blend of (probably) flamenco (like, idk what flamenco is really, i am not a flamenco authority) – what the ordinary british public might think of as flamenco: castanets, layered skirts, lots of stomping and arms in the air. but all of that mixed with kinda contemporary dance forms. at one point, some of the sequences broke down and a dancer was just vogueing flat out, some of the dancers were really balletic and there were bits that felt like actual contemporary ballet (again, probably – i know nothing about ballet either!) or ~expressive~ or contemporary dance. n i was j like, gwon sadlers wells! like, alright!!! even if i knew nothing, even if my expectations were wayyy off the mark, i was sooooo wowwed. it was so mind-boggling, so spectacular, so all-out showbizz dazzling special but in a really fucking cool way. gwon my mum!
WAGATHA CHRISTIE
ok firstly, there is a boycott of Disney (along with starbucks & macdonalds) – i can't find the details to put in here bc honestly every time i search for it, in whatever combination of keywords, on whatever wherever i am searching – i have to parse through a million jarg posts by fundamentalist christians calling for a disney boycott because of satan-worship in some form. so. the caveat is: there's a disney plus boycott as part of BDS of Israeli companies and companies that support Israel's ongoing acts of genocide against the people of Palestine. i think most of this disney/starbucks/maccies is actually being driven by kids on tiktok (fuckennn good for them!) – either that or it's led by kids based in arab countries, i can't seem to find any coverage of it on european news outlets. i hadn't heard about this boycott specifically until this week – i thought it was just sodastream, sabra hummus and Puma? a couple other odd companies here and there. i've had a little look into it and there are calls to boycott flipping LOADS of companies. like, barclays? i think the main 3 are starbucks, maccies and disney tho. but, the caveat is to say: BASICALLY yes i watched this on disney plus. but no more! back to the torrents i go, tho i cannot encourage you to do the same, bc i think that's illegal? and potentially imperfect? like basically i don't know if i should be mentioning this bc of the boycott, but i also don't know what the boycott actually is. pls lmk – will happily take this bit off if so.
ok so, i watched the wagatha christie documentary. i have so many thoughts. firstly: coleen rooney is so fascinating as an individual and such a main character. this was gripping, dramatic, nowhere near impartial but really compelling storytelling. my bf was pretended to be making dinner instead of watching, but he was gripped too. such a cultural moment! wagatha! this is deffo coleen's side of the story, but imo vardy's a GRASS! can't be selling stories to the sun (boycott boycott, on the subject of boycotts!) and i just really enjoyed it. i'd watch a full reality series about life with the rooneys – they make for really good tv personalities and i wound up really liking them? i mean, kinda liked coleen already. but i love reality telly! so more of it plssss
& WREXHAM AFC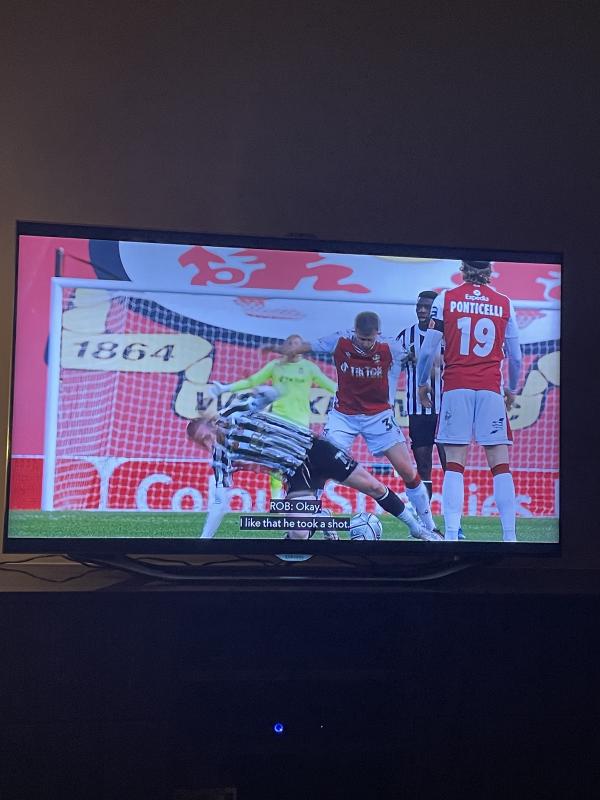 also on disney plus, unfortunately. but couple weeks ago i started watching welcome to wrexham – that series about ryan reynolds the actual movie star buying a welsh football team.
i need to caveat this too: i actually really like the footy. i am an arsenal girly!!!
so like. this series is v interesting bc wrexham was a club that'd been down for a long time. it starts when ryan & his friend rob (the guy from it's always sunny in philadelphia) are about to buy the team. Wrexham were owned by their fans – the supporters trust – after a buyback from a shady owner who tried to asset strip the club and sell it on to HIMSELF (he was a property developer, boooo). they'd been in the national league, the fifth tier in the English football league system, i think it's the lowest professional league? so, wasn't going well for wrexham. the series charts their attempt to get promoted up into league 2, but it also gets into like… a beginner's guide to british football culture? there's an episode that gets into hooliganism, each episode flashes up little definitions of very british words (stag do, gaffer, sacked) and translates them for the americans. the returning characters that feature include long-time season ticket holders, the guy that owns the pub next to the stadium, volunteers and club staff. i think it's really interesting! and realy sweet! it's a scale that i don't experience football at, because arsenal is kind of a very highly financialised entity. and ye, i love it! most successful london club of all time, that's a fact. but it also is what it is. watching welcome to wrexham, it made me kinda really feel a bit sad that my team is sooo distant and ubiquitous. the underdog is small, nippy, and also entirely yours. idk – it made me wana have a look into lower league local grassroots clubs that are closer to home bc yeah!! football is kind of really about community and this series made me really wistful for that. watch out Barnet FC, i am googling u lmaooo.
FREE PALESTINE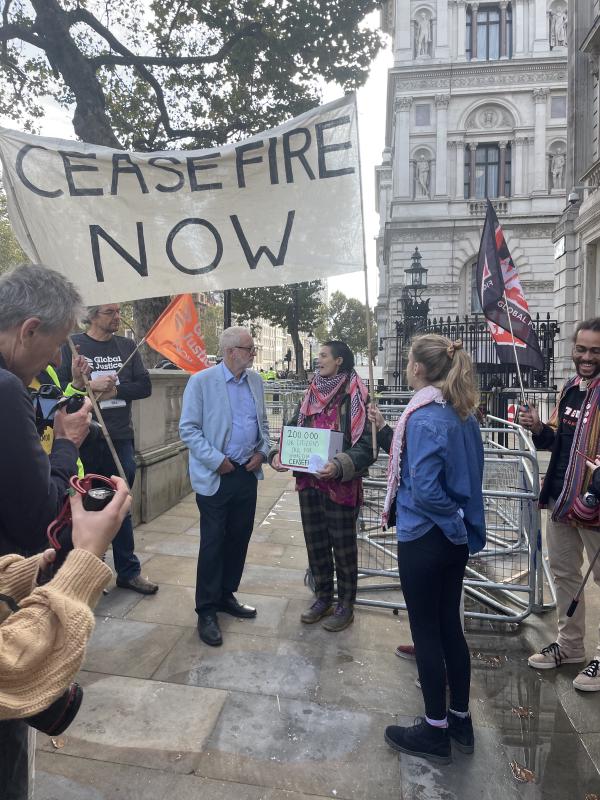 ey mid-week i popped down the road to downing street, to meet Bones tan-jones and a bunch of other people from different orgs. we were delivering a petition calling for an immediate ceasefire. totally not the point of the gathering, but jeremy corbyn popped by and i was totally completely starstruck.
you can still sign the petition here, they're still trying to reach 500k signatures. But if you haven't already, please email your MP, and ask them to call for a ceasefire & to stop the war in Gaza. for some unfathomable reason, politicians are talking about a ceasefire like it's a ludicrous out of this world demand. instead they seem to prefer the idea of asking for a 'humanitarian pause' – i don't think anyone is quite clear on what that'd be. like, do they just want to stop bombing hospitals for a little bit? so they can send in the aid trucks? and then continue massacring civilians? that seems like the ludicrous suggestion in this particular situation, at least to me. so please, if you haven't emailed your MP, please consider doing so. and if you have already emailed, please consider emailing them to let them know that a ceasefire is still needed, still where public consensus is at, and they can't get away with the compromise of 'humanitarian pauses' becasue there's frankly nothing humanitarian about allowing airstrikes and the murder of innocent civilians to continue.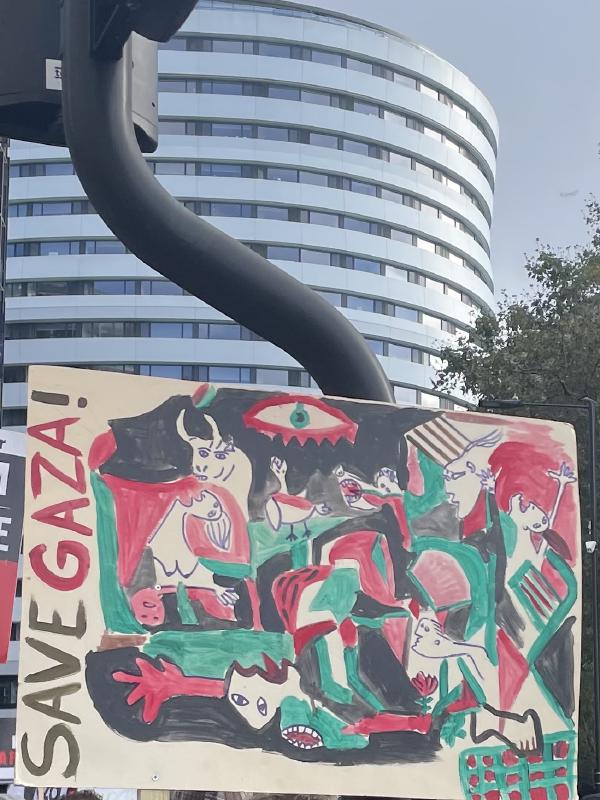 also, look at this cool guernica placard i saw at the protest on saturday – beautiful!!! painful!!! i love artists!!! the best of us! ((if this is your sign and you'd like to be credited, please get in touch! i think i heckled you when i walked past ya but i'm sure you got loadsa compliments and it was all a passing blur. apologies for not getting your details!))
IF U CAN'T MAKE IT IRL TO PROTESTS
for whatever reason, maybe chronic illness, maybe u have caring responsibilities, maybe it is too risky for u to be seen IRL out and about at these protests – i j wana flag this bc we posted it on stories, but i wish we could like… pin the ones we wana flag for more than 24/hours.
There's a 6pm online strike for Gaza – from 6-7pm you can join other people online and comment under the newest insta or twitter post of your local key politicians, to create a protest wall of text under their posts. people have been commenting with a fact about gaza, tagging #CeasefireNow – if you need quick access to facts then this doc might j be universally handy too, but ppl have put together this quick fact google doc which is so kind and helpful!
ALSO! COMING UP! FLAGGING THIS!
our friends at 3eib have pulled 12 orgs together to organise this event: ARTS ACTION PALESTINE on Sunday, at Young Space. here's the eventbrite if u wana cop a ticket — for FREE!!!
LITANY OF VICTORY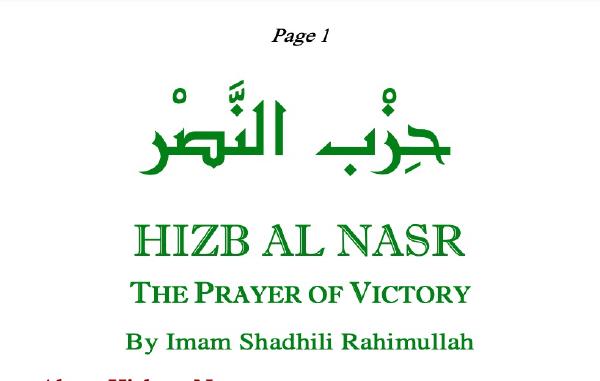 i came across this prayer, the litany of victory / hizb al nasr, and i thought it'd be nice to share it. idk if you have a faith, or if you (sweet reader) are muslim, i think it doesn't really matter – this is a beautiful text even through a secular lens. but for me, as a muslim, it feels like a sweet and powerful kind of poetry.
i think we have all felt a kind of powerlessness in the face of things that seem so much bigger and more unmoveable than us, individuals or 500,000 collective strong. but to admit your powerlessness and accept it, not to relent, but to call on a higher power for justice against tyrants. that feels like poetry.
lowkey & lmao i stumbled across it on twitter because someone posted a screen recording of yasiin bey / mos def reciting it on ig live. & god bless him for that! it was beautiful spoken aloud, because so much of my interaction with and my personal understanding of my faith is whispered to myself. it felt really beautiful and strange to hear it sung loud and in english. it reminded me that islam is not necessarily just about whispering to myself, but rather about being in community, singing aloud!!! that it is something to be shared, and that it is also about remembering our obligation – muslim or not! – to fight for and with the oppressed. i think i needed that as a sweet reminder this week, so i am sharing it in case that reminder feels sweet to you too.
ok that's all! hope u have a good week!!!! love u, have fun, stay safe, see u next time mwah mwaghhhh! <3 <3 <3 <3 <3 <3 <3 <3 <3 <3 <3 <3 <3 <3 <3 <3 <3 <3 <3 <3 <3 <3 <3 <3 <3 <3 <3 <3 <3 <3 <3 <3 <3 <3 <3 <3 <3 <3 <3 <3 <3 <3 <3 <3 <3 <3 <3 <3 <3 <3 <3 <3 <3 <3 <3 <3 <3 <3 <3 <3 <3 <3 <3 <3 <3 <3