WHAT I SAW LAST WEEK: 30th October
Hello & welcome back to WHAT I SAW LAST WEEK! my silly little culture diary as a critic and a recluse in LONDON, the BIGGGG CITY!
last week was not a writing week for me, so i had Time, but i was also SAD because when i'm not writing, i feel genuinely aimless. like a plastic bag, drifting through the wind, wanting to start again etc. i did squeeze some fun lil bits and bobs in tho!
I JOINED A CHOIR!
kinda!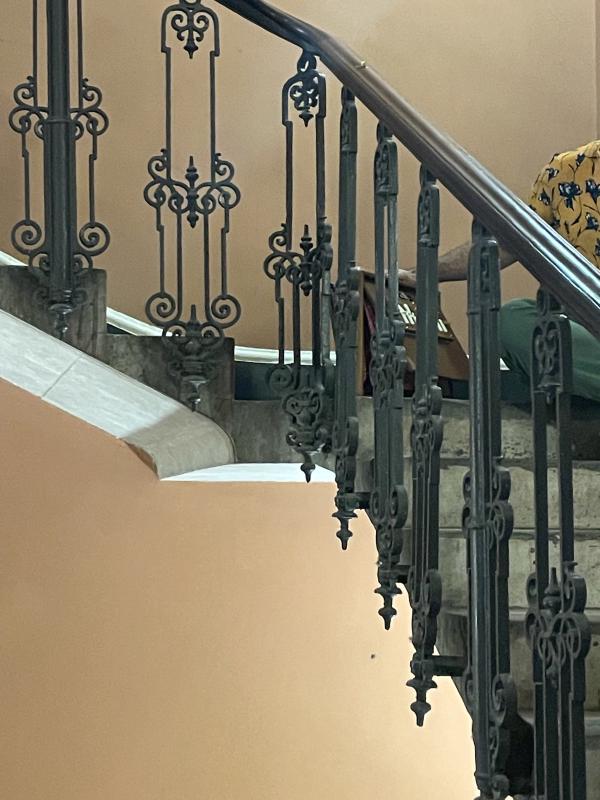 so we've got a cutie lil hot desk co-working space office situation at somerset house – which is great, i get loads done when i don't have to work in my bedroom and they give us a cheeky lil discount (for now…!) normally i am in and out, busy tip tap typing away with my head down, but there's loadsa ~community activities~ at somerset house for the artists and creatives in the studios and the exchange. including: a RESIDENTS CHOIR!!!! my new years resolution this year was to find a new hobby (and to do loads of good work i am proud of!). i have only managed to do one of those resolutions so far (the second one hashtag stay humble etc). i've tried a couple of new hobbies but none of them have really stuck – but i remember being in ireland, on that residency at sirius! last december, and me n gab went to see a christmas concert they had on. it was three singers, nt a full on choir, but it made me so emotional! i was like 'i am gna join a CHOIR!!!' (i never did). UNTIL NOW.
turns out, there are a couple of sound artists who have studios at somerset house, the choir is pretty informal and sometimes artists use it to workshop ideas. sometimes artists j get together and sing madonna too, so it's not all about art-making and experimental practices (i love BOTH).
ey ye, so i went along to a choir session last week and there was a resident who was an ADHD coach, leading the session around breathwork. we did a lot of meditative singing, lots of repetition. it was really calming and nice! i rly felt like i was at the football, rather than it feeling like i was doing karaoke. because karaoke is spectacular! it's a single person putting on a show – the football is like, singing and yelling in chorus, where you feel your voice disappear into the communal voice of the crowd. i kinda love it. (side note: has anyone started a football choir? i'd join that too while i'm at it lmao. it'd be so cute! me n the lads down the emirates singing NORTH LONDON FOREVER, with harmonies) like – i think the crowd is the whole point. and i think that's emotional! to feel ur singular individual body just dissolve away at the edges, become plural and resonant. it made me really actually feel my body, after a day of typing and clicking at my desk and staring at a screen – then all of a sudden i could feel sound banging around my chest, my chest felt hollow and full of air and like i was an instrument, my wwhole entire body! and i was feeling it all within me, like i was a wooden body of a violin just trembling as the sound bounced around inside me. that was lovely, so corporeal! i've only ever felt that way while i'm running, i think? like where my body starts to slip away and i just become movement, rhythm, impact and whatever old school garage classic that's pounding thru my headphones. had a lovely time, 10/10 recommend joining a choir!
ON RAILTON ROAD @ MUSEUM OF THE HOME
got a cheeky lil invite to the press night for this play, On Railton Road, that's on at Museum of the Home!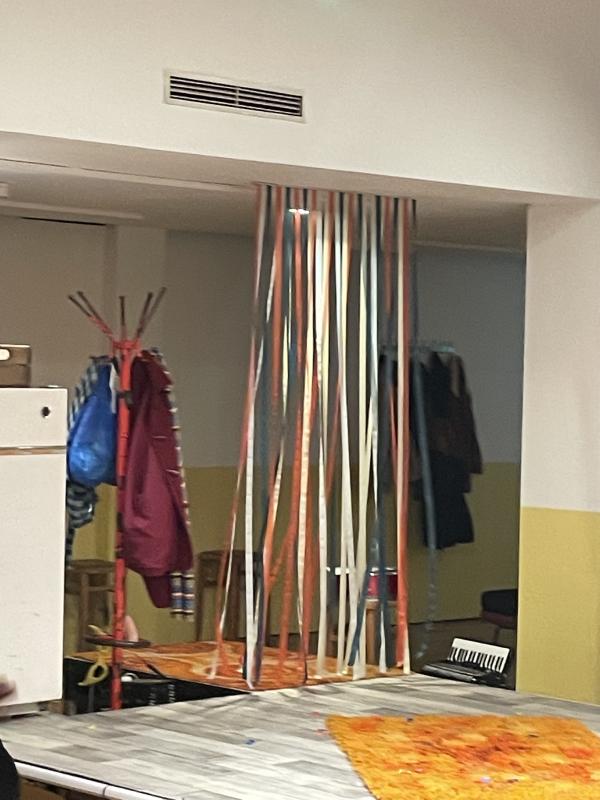 I've been really interested in history this year, and especially radical political history. i didn't know much about anarchists or anarchism before 2023 – but once i kinda had a snoop around to see what they've been saying throughout history, i realised that… lowkey, they're spitting bars (i don't actually find myself ever talking about politics well, it always comes out as a hatchet job, so i'll leave it there). but i was immediately interested in this play: railton road was something i was already familiar with. It's where the brixton uprising started in the 80s, olive morris squatted in a couple buildings down railton road, eventually turning one of them into the 121 centre – an anarchist social centre and bookshop. olive morris sounds really cool, like i should find out more about her – she was a founder of the Brixton Black Women's Group, a British Black Panther. this is a note to myself to do some snooping.
i mention this all to say: i'm kinda very here for the politics of the play, and what its whole basic premise is built on.
this is the blurb: In 1970s Brixton, these gays want to set the old world on fire. Ian Giles and Louis Rembges' critically acclaimed play is a hedonistic drama about the lives and loves of the pioneering queer squatters who fought for a place to call home. Casper wants to bomb WH Smiths. Daire wants to put on a play. Atom is naked in the garden on an acid trip. Ned just wants to be with Philip and live on Railton road forever. On Railton Road throws you headlong into Brixton's radical past where queer activism transformed the lives of this unique community.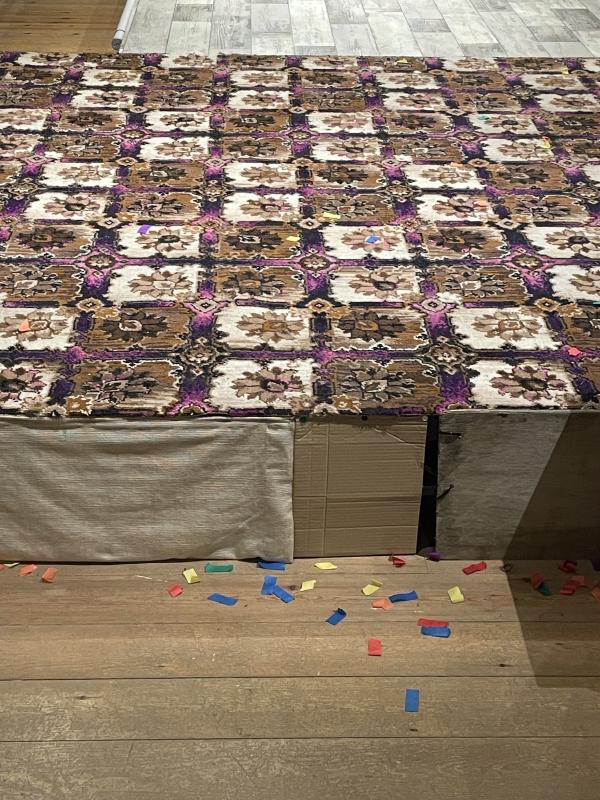 apparently also, this the first theatre production to be staged at Museum of the Home. it was an odd space to watch some theatre, not gona lie. but i think the makeshift-ness of the space felt appropriate for the politics of the play's subject. i also just feel clammy in actual traditional velvet seats theatres, so no complaints about being somewhere less clammy.
i got the gist that the play was put together based on the oral history and accounts of the actual gay squatters that actually lived on railton road back in the 70s. with that in mind, the first half where they were settling into their positions and their narratives felt really very compelling. the interval hit with a note of violence lingering in the air – climax, cliffhanger. the second half tried to land on a note of hope, resolution – the squatters got organised and formed a housing co-op (that actually exists still now – Brixton housing co-op) and the characters all managed to buy a house. there's a jump cut to a moment a couple of years down the line, they're all gathered in a garden, proud homeowners and friends back to reminisce and be held by the radical community that raised them. i don't know. it felt too neat, too quick, deeply imperfect. not to pull down my pants and show you my politics, but it felt like a cheap fix that i resented a bit: to organise (good! fine!) and transcend precarity (also good! fine!) by assimilating (boo) and conforming to the shape and standards of the society that they all spent the first half of the play reviling and revolting against – purely, beyond a political cheapness, i was actually unsatisfied on the level of narrative because they jumped from one position to the other. i guess the point should be that: eveyrone deserves a stable and nice home. how you go about getting that is kind of immaterial. they were carving out space for themselves in a world that fundamentally didn't want to care for them in any material way and actualy the means they used to get there do not actually exist any more (fuck margaret thatcher). so like, fuck the politics but i just felt a kind of jumpcut that i was expected to keep up with, and i didn't. maybe because of my politics, but also probably bc there was a kind of gash in the narrative that i wanted to collapse closed, to suture it with a little bit more explanation or deliberation.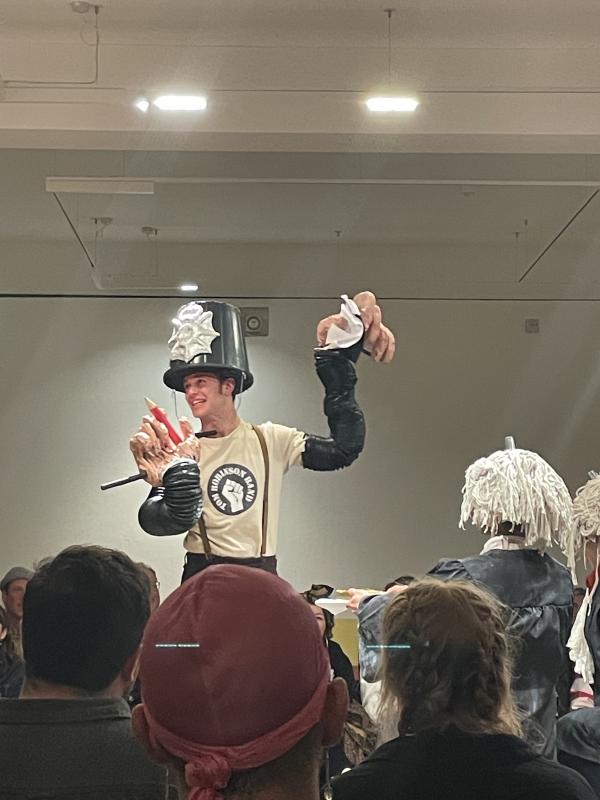 one thing i absolutely fucking loved more than any other bit tho WAS: the scenes were intercut by these vignettes where the characters would put on panto puppet outfits and perform little punch and judy skits. it felt so english, so 70s, but so fucking raw and good and packed into itself. there was MR PUNCH, this panto patriarch in a dressing gown and nightcap, with a moustache held up on a stick, JUDY (aka MRS PUNCH), a queer son, son's boyfriend, and a POLICEMAN with extendable arms and enormous ham sized fists. the costumes for these skits were also makeshift and rough. the policeman's hat was an enormous black bucket. the lawyers (there were lawyers) had actual mops on their heads instead of wigs. that was a kind of comedy in and of itself. but the skits were directed by a frantic narrator, the characters skipped about on stage, corpsing and wink wink nudging. it was a kind of slapstick, a kind of meta-comedy. it was soooo fucking good, the best bit. because it was raw and rough and also sooooo tight and clever. apparently these skits were written by the gay squatters' theatre co-op, the Brixton Faeries, this particular company's predecessor. they'd put these skits on in like, the literal streets. as street-theatre, political intervention, agitprop. i think they might've been using the actual scripts they wrote. which is incredible! what an amazing source amterial to work from! here's more info about the Brixton faeries, if u, like me, want to know more about that.
all in, even tho i wasn't actually satisfied by the second half's stab at resolution, i thought this was a really interesting play, a really interesting window into a history i'm down for, but know not much about. i now have to go away and google every reference on the flyer. i will report back when i do!
SAW AN XRAY OF MY JAW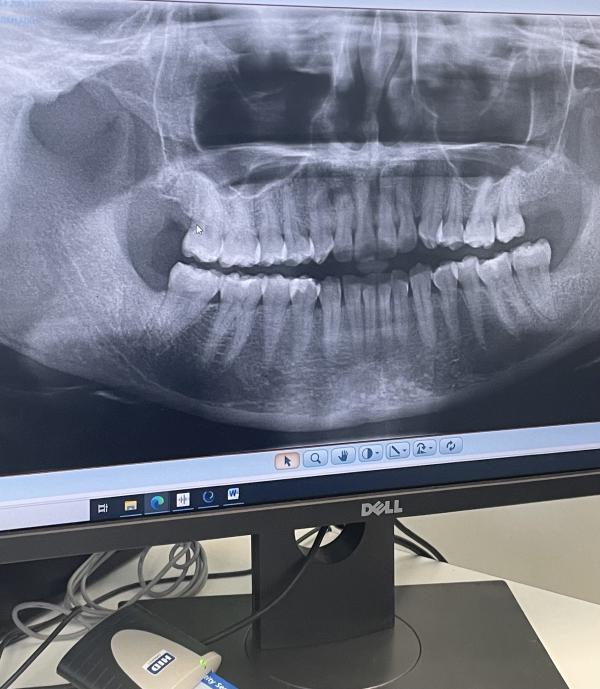 had to go back for a post-wisdom tooth removal check up and the dentist-doctor-surgeon (the lovely girly who nicked my teeth) was explaining what the sinus mucus lining is. apparently our sinuses are big hollow expanses behind our cheekbones, and they have a mucous lining, and when we have a cold, the big hollow holes fill up with snot. isn't that fucking disgusting? bodies are so grim. i'm soooo squeamish. next time you have a cold, think about all that snot knocking about in the cave of your face – horrible.
GODARD WAS IN AN ANARCHIST FILMAKING COLLECTIVE
so i've been taking on a couple lil commissions and oddjobs at the moment (cozzy livs) and one of them was about a film called Empty Suitcases by Bette Gordon. which is a super interesting film, made at a super interesting time! i did some research into NoWave Cinema, but ended up coming across the Dziga Vertov Group. it was set up by Jean-Luc Godard and Jean-Pierre Gorin, a collective of left wing activists and film artists dedicated to making small-gauge, politically engaged cinema outside the studio system. i think they were anarchists too y'know? or maybe marxists? i don't understand the weird slippage and opposition between marxists and anarchists. it's like arsenal spurs rivalry – we should really come together as one, to defeat the greater evil (fascism or chelsea – can't decide).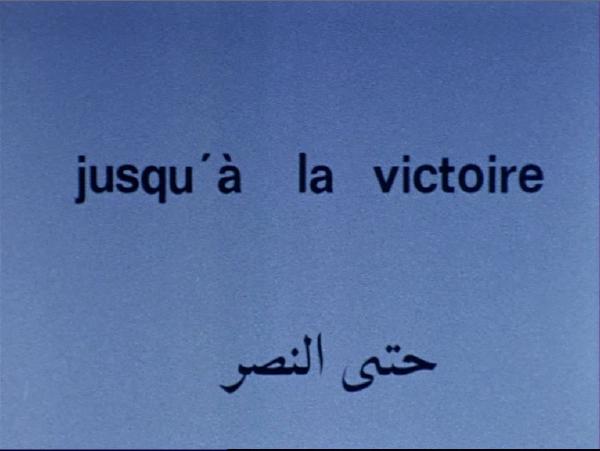 i mention all of this because: the Dziga Vertov Group shot a film in Palestine, called Jusqu'à la victoire (Until Victory) – Godard & the group shot loads of footage of Palestinian resistance fighters, fedayeen from the PLO. but the film was never made because most of the subjects they interviewed were killed by Jordanian forces during Black September (in 1970) and the Dziga Vertov Group dissolved. but Godard went on to use the footage for his '76 film Ici et ailleurs (Here and Elsewhere).
i can't seem to find a version of this film online, which is sad, but i am halfway through reading this essay Godard wrote in 1970 – halfway thru bc i dip in and out of it on my cigarette breaks. it's interesting. i think i feel, more than ever, like Palestinian resistance is not just a morally clear case. but actually a political axis i find myself on anyway – anti-colonial struggle and the history of overthrowing colonial tyrants, wherever & whoever they are. i keep thinking about Mohammed el-Kurd tweeting tiocfaidh ár lá, the way all anti-colonial struggles are characterised by aggressors or the powers that be, the way they are all interconnected beyond similarity, but also in understanding. it's interesting. i don't think i have anything interesting or new to say about it, no thoughts i need to or want to crack, i'm just ~contemplating~ it all atm. & i think i wana watch godard's film, which is a sentence i never thought i'd say. so if u know where i can watch it pls lmk!
SISTER CORITA KENT'S RULES
hadn't heard of sister corita kent, but always glad to come across an artist that's new to me & whose work i enjoy! critclub posted them on instagram in their october round up and i was just scrolling past – but the first thing i saw was: THE ONLY RULE IS WORK.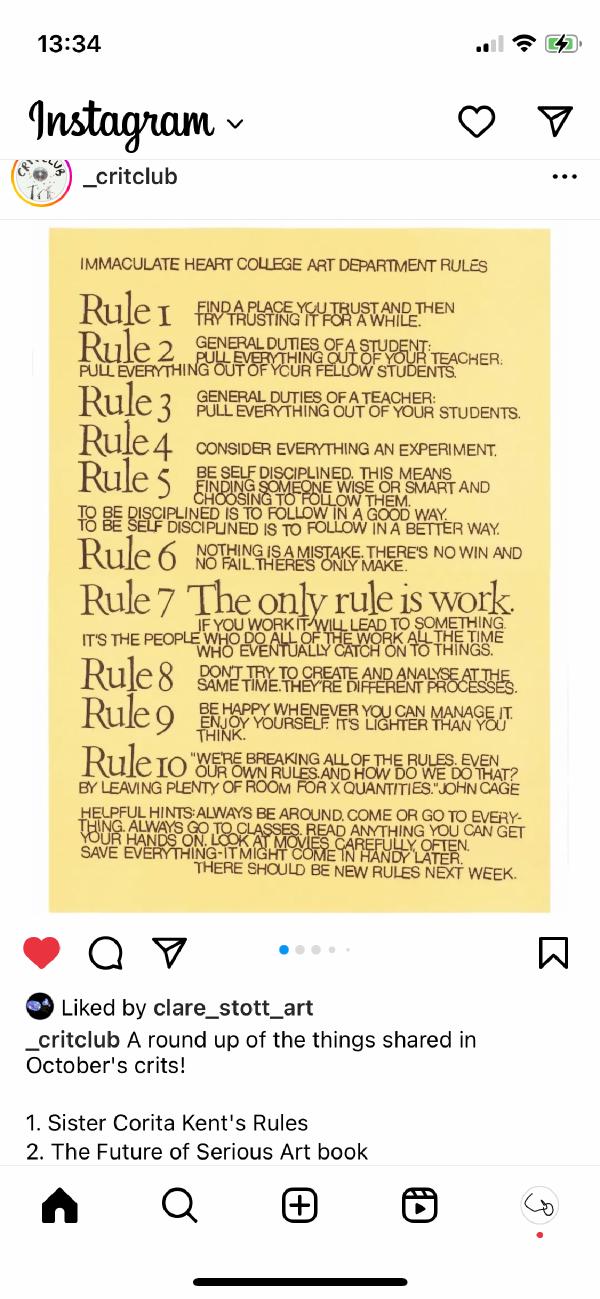 i think i have really complicated feelings about work, and art's understanding of itself in relation to work – see WELCOME POMODORO!. but just generally, i think we could and maybe should move beyond an understanding of life as defined by work, our abbility to work, the quality of work we choose to do. i think, really i think, maybe work is a bit shit and a bit washed and when people say they hate work or don't want to, i really sympathise and think they should do whatever they like. but at the same time, the work we do here at twp is such a defining part of my world! my understanding of who i am and it's a source of pride and satisfaction – i never know if that's healthy, but it just is what it is. i enjoy my work! and i understand that that is a kind of privilege and that it makes me the luckiest girl in the world – but i also shouldn't be the luckiest girl in the world, we should all be this lucky. y'know? anyway – i liked these rules. they felt like something that confirmed or affirmed me, and they also stretched me a bit. because who and what am i if i like these rules, especially the one about work. but also, what do these rules mean, in practice? i'm overthinking it, not everything needs to be chewed over at that high octane phd galaxy brain thought level. some things are just nice. maybe this is just nice!!!
THIS PICTURE OF DEMON BOYZ IN FRONT OF BROADWATER FARM
was havin a cig in those lil alleyways in boxpark (i fucking HATE poxpark, by the way – shitty gentrified neoliberal theme park for transplants and tourists who don't know anywhere else to go in london, fuckin get rid of them, terrible places) and in between complaining to myself about being in a boxpark, i spied this pic of the Demon Boyz outside Broadwater Farm.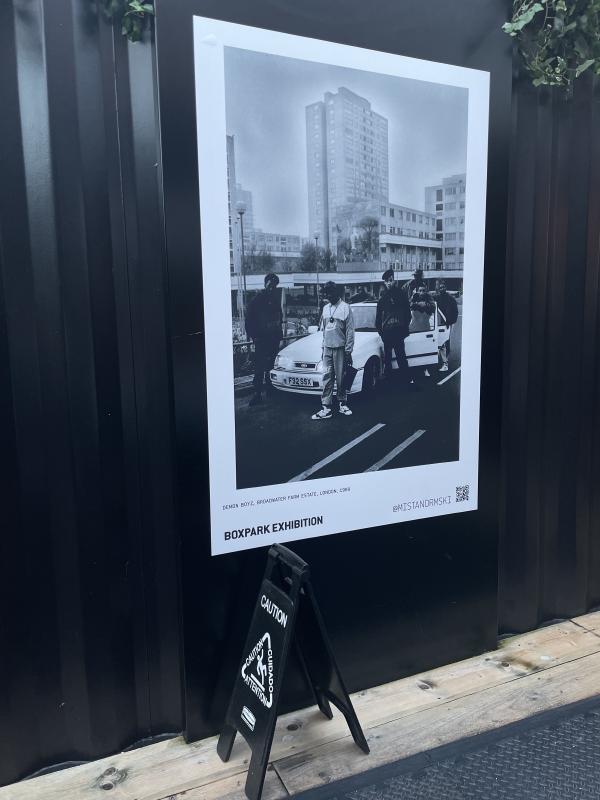 i was firstly like, ah, nice! tottenham icons standing in front of a tottenham landmark. my dad grew up down the road from broadwater farm, i live round the corner and i go for my runs in the park it overlooks. it felt like a nice moment where box park's weird london as urban disneyland facade crumbled for a bit. but then i thought about it cynically and i was like – FUCK that actually. this is set-dressing? this is bringing in an image of the real city, as an aesthetic. SIMULATIONS!!! abolish boxpark!!!
FROM TWP ARCHIVE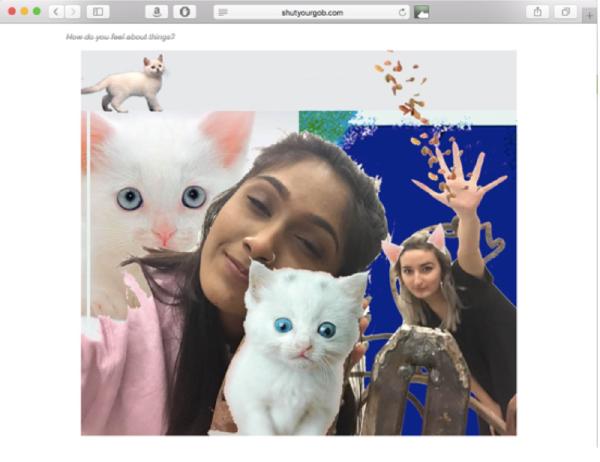 look at this weird item from the deep TWP archive. it's from back in 2015, we had j set up twp i think, bc i hadn't even bleached my hair (GDLP actually bleached my hair january 2016 in her kitchen on cally road) for an interview we did with a website called Shutyourgob. i don't think it's about anymore. but we sent them a bunch of images like this as answers to their sincere and well intentioned questions (we were such little shits) – cute! i have so much love for bby G&Z, look at them!!! ah, babies! full of vim and energy, god bless them!
SATURDAYS ARE FOR PROTESTING
please continue to email your MP, and ask them to call for a ceasefire & an end to the violent murderous war in Gaza. Israel is commiting a genocide and our politicians are letting them, encouraging them. FREE PALESTINE.
if you're around on Saturday, as far as i know at the time of writing this, the march this saturday (11th) is still going ahead.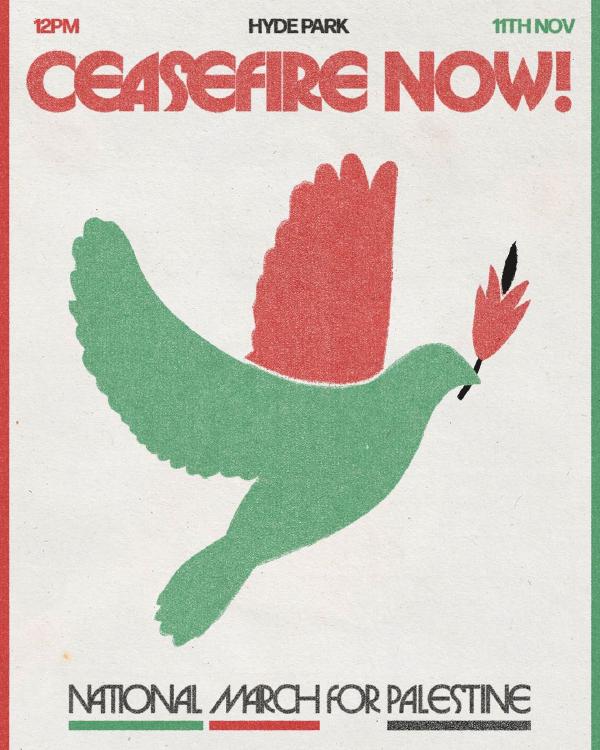 This is a lovely poster designed by Tom Greenwood – Tom & PSC have made it available as a print out if you want to paste it all over lampposts and streetside hoardings. heard they're prime real estate & fair game for political flyposting atm.
at time of writing, PSC are also looking for stewards for Saturday, sign up here if ur free
here are some more guernica placards from last saturday.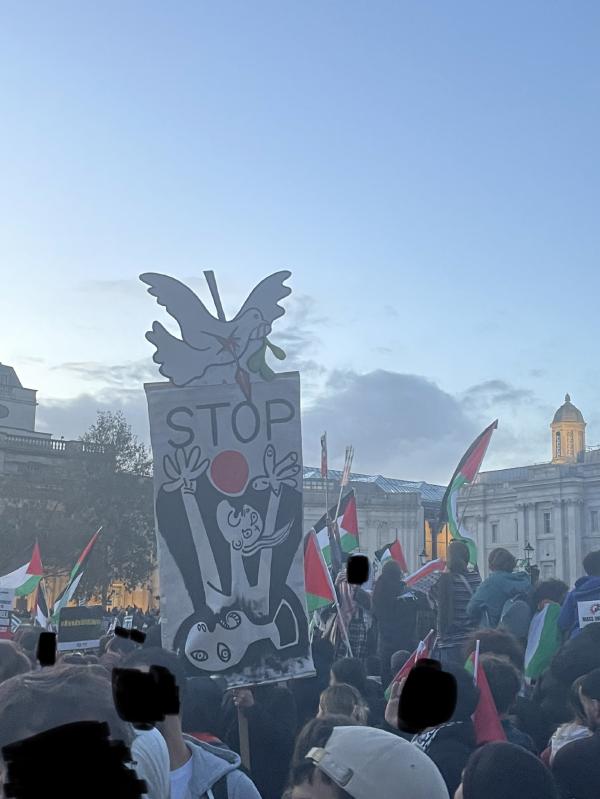 i also have been thinkin a little bit about the way the national gallery just overlooks a bunch of protests, state building and part of the state architecture of trafalgar square. i don't know what it all means to me or at large, but i've jsut been thinking about art institutions and their civic role, what they owe us as citizenz, how they pay up for what they owe us and what we can demand of them. this felt like a weird and demonstrative image when i took it, but whatever it was demonstrating has kinda loosened its grip on me post-capturing it.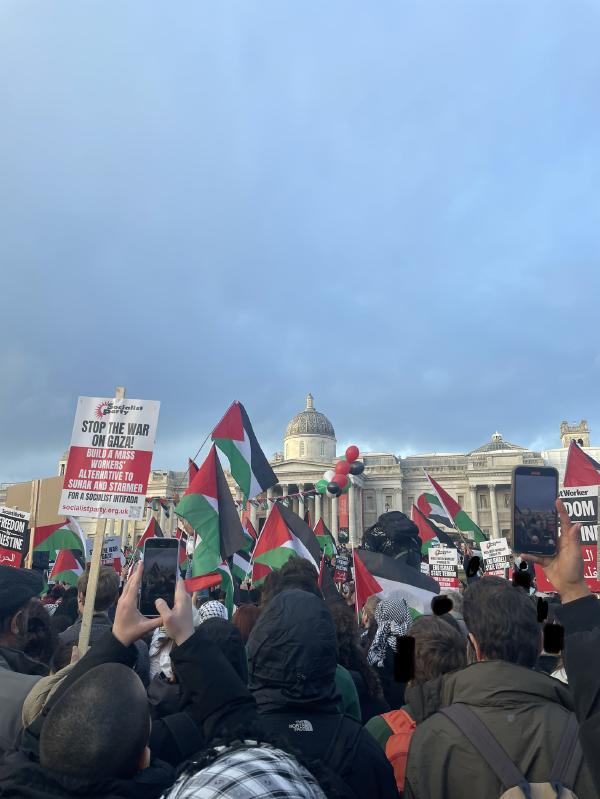 ⋆ ˚。⋆୨୧₊˚✧˖°.₊˚⊹♡.⋆˚。⋆୨୧₊˚✧˖°.₊˚⊹♡.⋆ ˚。⋆୨୧₊˚✧˖°.₊˚⊹♡.⋆ ˚。⋆୨୧₊˚✧
that's all for this week! thank u for reading! ⋆ ˚。⋆୨୧₊˚✧˖°.₊˚⊹♡.⋆˚。⋆୨୧₊˚✧˖°.₊˚⊹♡.⋆ ˚。⋆୨୧₊˚✧˖°.₊˚⊹♡.