i'm ye olde gdlp now
A few months ago, my Nan died. I found myself thinking about the pieces of her I still have in my life – a sewing box full of knotted bobbins, peridot earrings, an old fan, and… a camera. When I was a teenager, my granddad (who hated everyone except for me) used to take me to carbooties on a Saturday morning to look for old cameras. It's funny looking back. I had no idea what was worth buying. I had no idea what would even work. But I liked the objects as they were – the shapes, old leather cases. Inherent hipster tendencies, just really embarrassing stuff. But then my Mum won a Smooth Radio competition to go on holiday and she bought me a DSLR with some of the winnings, and I was a camera person. And then, I applied to go to art school, and I got in. I was an art person. My Nan pulled out an old film camera one day and told me to take it to university with me - she didn't use it anymore. No one uses film, etc. So, I went to a camera shop in town and the man at the desk put some film in it for me. I went about my life that summer before university taking pictures of god knows what, because when I got it developed, only 1 picture came out. My old black cat Jesper. Weird. Nevermind. I put the old camera in a box and forgot about it. Thought it was a dud, knew my DSLR definitely wasn't a dud and carried on my life with that.
When my Nan died, and I found myself thinking about these things I still had of hers, I got the camera back out of the box. I dunno. I was emotional, and I was also convinced I knew better now. I was an adult who had the patience to read instructions and watch YouTube tutorials and figure this thing out. So, I put new batteries in the camera – because also, here's the thing, it's an Olympus OM-101/OM88 film camera so it's an automatic SLR – and I took it to a camera shop in town and once again got a man behind a desk to insert the film for me. What colour do you want? How much is it? Colour is 19.99 but black and white is a fiver. Black and white it is. (19.99!!!!!!!) I knew it was a risk again, knew that I could spend even 5 whole pounds and get one picture back. But again, emotional, longing, missing. Just had this feeling that everything would work because either I'd make it work, or my Nan would do good wishes for me and float into the camera and make the camera-things inside it work this time.
So, went about my life with a heavy film camera. Beginning of June. Took it to a family BBQ. Took it to my yard. Took it with me to the shops. Took pictures. Had pictures taken of me. It was pretty tricky to use. The lens only has one clear circle through it, and everything else around it is blurry. It makes the aperture seem like it's 1cm in time and space. I did not have high hopes. I thought that even if the photos did come back, not a single one of them was going to be in focus. And so, it was an expensive game, but one that I felt I had to gamble on. Otherwise, how would I know? Finished the roll, took it to Max Spielmann. 27 pound to develop. (27!!!!!! what the FUCK). Waited two weeks. Got a text. Went along on a hot day when I was absolutely miserable because I had just broken my glasses the night before and I was scared to see how much it was gonna cost to fix them and – it worked. I stood outside Max Spielmann flicking through black and white photos. 36 of them. Honestly felt like I had won the lottery. I mean, look at them: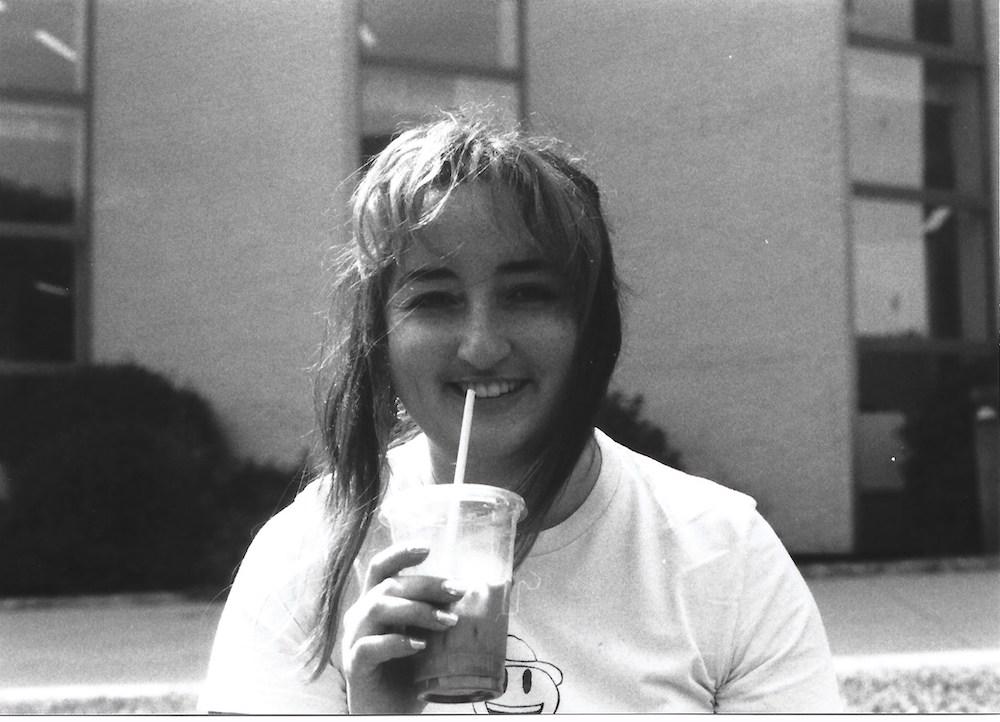 I sent them to my cousin who said something like, 'why do they look more real (than digital photos)?' and i GET IT. Why am I so surpised to look like myself? Wtf are digital cameras doing to our sense of ourselves. Don't get me started on phone cameras. Lying about the moon!!!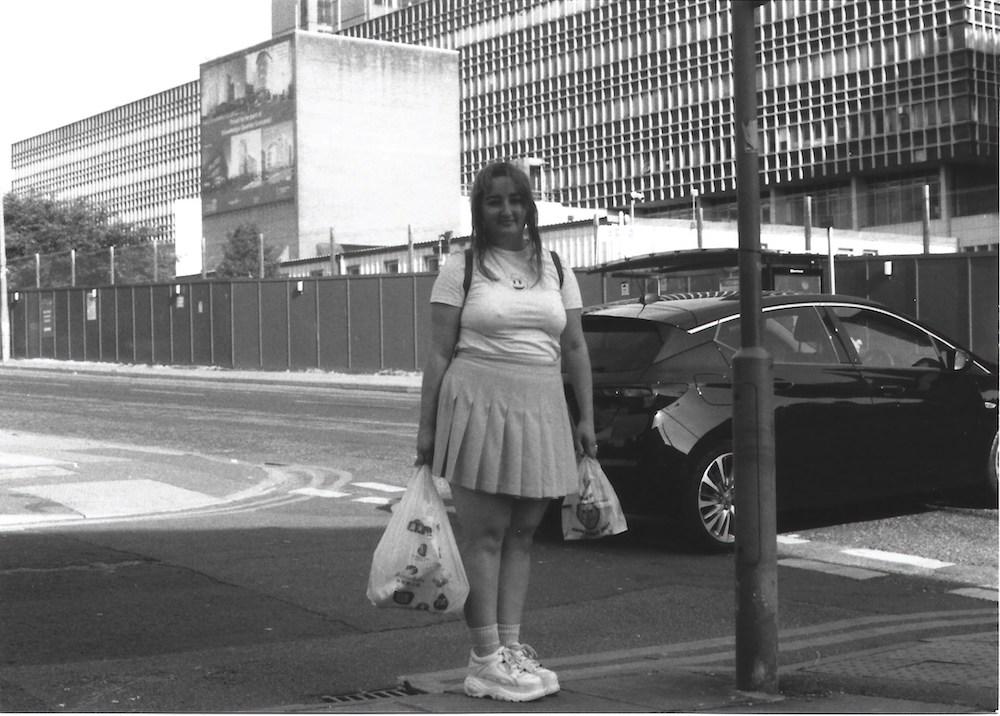 This is my favourite photo of me ever? I love it? I don't know what to do with this information so thank god I have a blog. And I'm sorry because it seems self-centred but these were the only photos of me out of the 36 – I can't share most of the photos because they're of my family. So, here's my cat instead: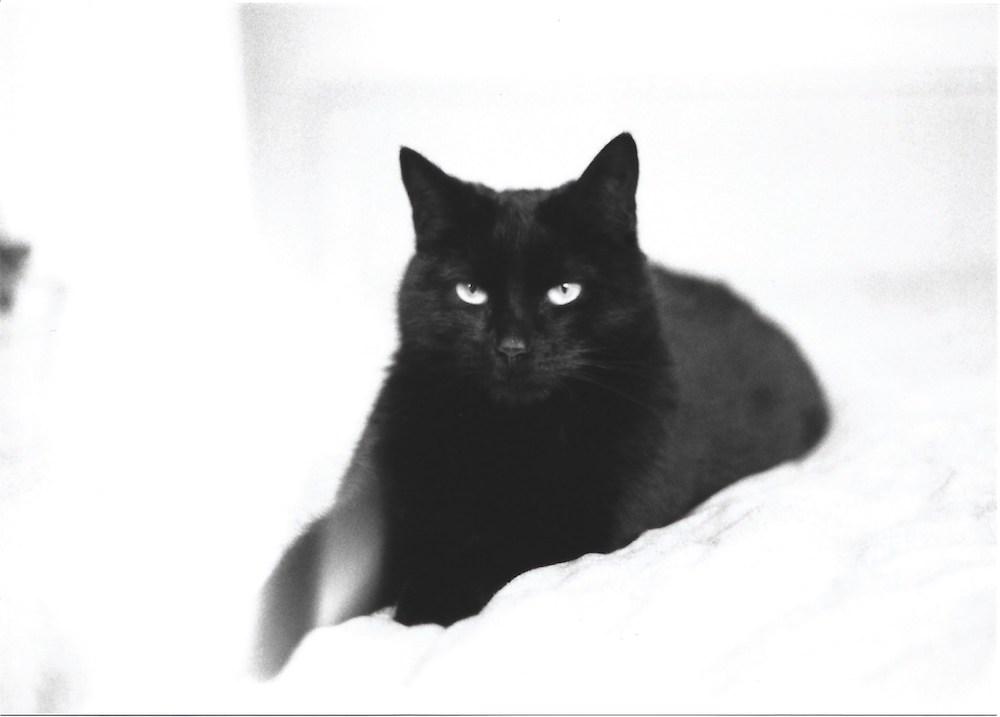 And of course, June 2023 TWP portraits hehe, taken after the radio 4 interview we did but before we went for Thai food: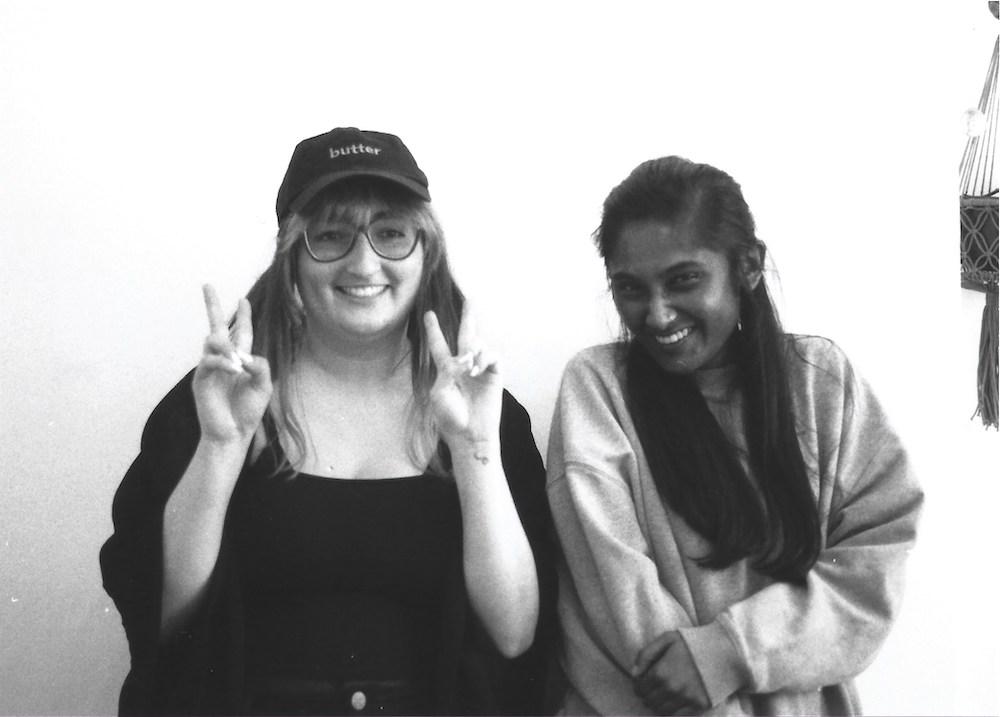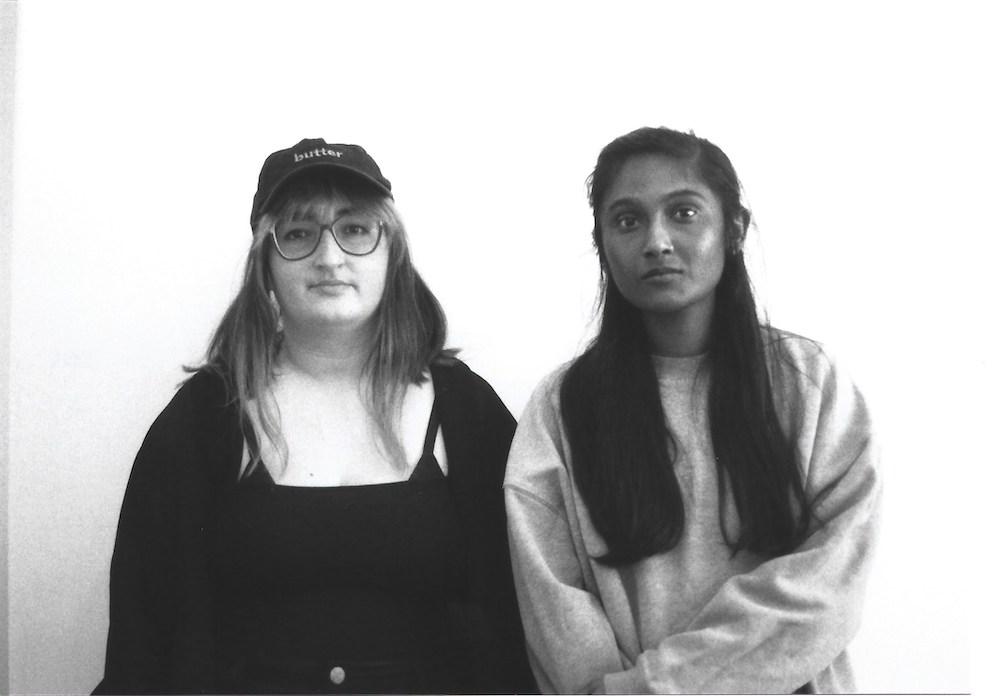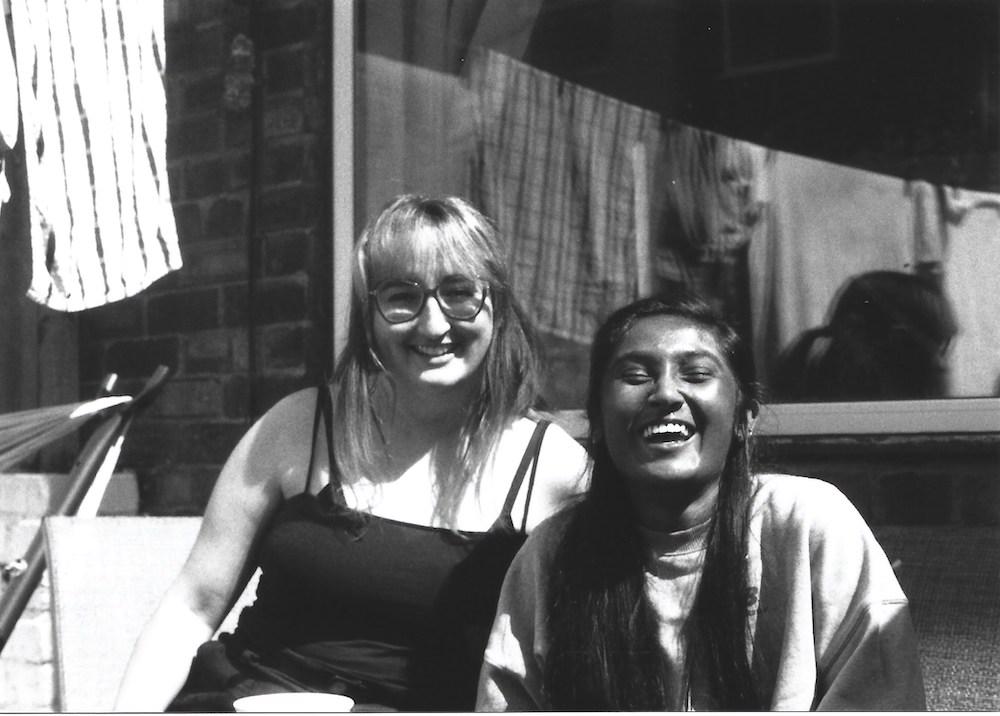 And then, funny circularity, but the only picture that didn't work this time was a cat one, of Coco yawning. It was at the beginning of the roll and it just had a big light streak over the best bit of the image.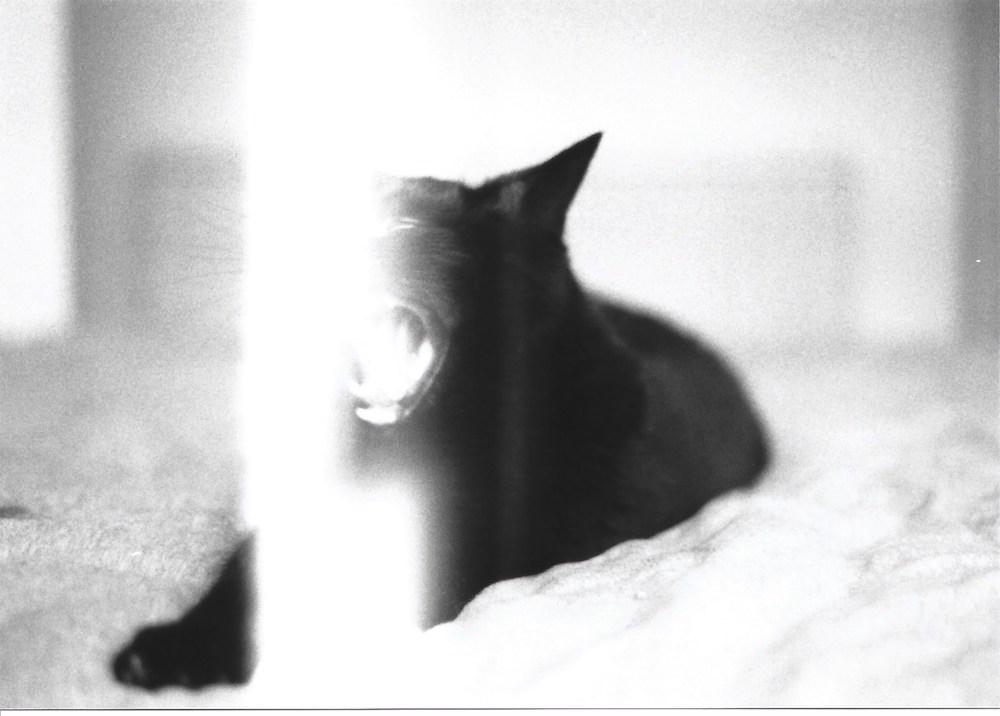 I'm a convert. Thank you to my beautiful Nan for this excellent camera and for continuing to give me so much joy even now. Forever. It was special to bounce around the family BBQ and tell people they had to pose for a photo because it was Nan's camera :) Wish I could show you the other photos, but just know they are the best I've ever taken. Psyched and grateful and amazed and buying pictures frames like it's the past.
Don't know how I am going to fund this new hobby. Desperately need to find a local film person who does this for a bit cheaper so if you're in Liverpool, please let me know. I splashed out on colour film because I saw some on sale so I'll be back to share more photos in the future if they're shareable :)
Also, reading the manual showed me this funny button the camera has to help maintain an image if there's a lot of backlighting and ?? what? Gonna try this on the colour roll and hope for the best. Literally don't understand how this is even a thing.