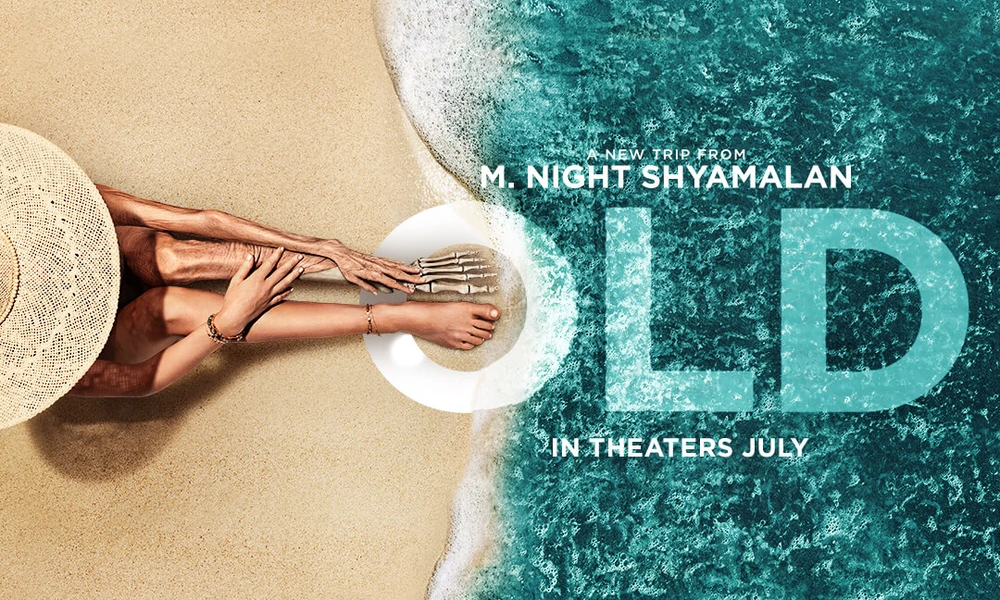 Old
I don't watch films anymore. I find it too difficult to concentrate at length because of brain fog. My new year's resolution, however, was to introduce variety into my life because owing to brain fog I keep sticking to what I'm comfortable with (and honestly, I think I'm happier in general when I don't). So, when my boyfriend says we should watch a film on a Saturday night, it is my resolution-duty to agree even if I'm likely to zone out. He wants to watch Old, the 2021 film from M. Night Shyamalan. It is based on a Swiss graphic novel called Sandcastle by Pierre Oscar Levy. All I know is that it's about a beach. It might be funny or scary or neither, but not knowing what's to come is important to the variety I can yield from the evening. We sit down with snacks and blankets, the cat stretched out across our legs, and I try my best to concentrate before realising I don't need to try at all — I am horrified.
A family arrive at a luxury holiday resort: drinks on arrival, infinity pool, rich-looking guests. The rooms and the restaurant all look out onto a tropical beach view. Jungle and hills in the background, it is perfectly bright and the children, a girl and a boy, are thrilled. Their parents, played by Gael García Bernal and Vicky Krieps, are less at peace in the setting. We learn that they were on course to break up before Vicky's character discovered she had a tumour. The stress has kept them together for now, and this trip is more for the kids than anything — a chance to let them enjoy themselves before learning the truth. The little boy makes friends with a kid of the same age whose Uncle runs the place. It's a sweet holiday friendship: the hotel kid writes him a letter in a secret language and gives him a key to decode it. Just kid things. All nice, good holiday, things are going well.
At breakfast the next day, the waiter tells the family that there's a hidden beach up the road if they want to have an adventure — oh and not to worry, he can arrange a car to take them. They get dropped off with another family who have been let in on the secret — a mum, dad, kid, nan and dog. The hotel staff member who drives leaves them with a huge hamper of food before quickly hurrying off. The beach is situated in a white sand cove and it is a dream location except for the vibe. There is a famous rapper called Midsize Sedan sat there on his own with a constantly bleeding nose, looking troubled. The other guests don't know that he came with a girl who swam out into the ocean and never came back, that is, until her body washes up. Shortly after that, the Nan that came with the other family dies. Then, her dog dies too. The bodies are piling up. Another couple arrive and when they see the commotion they decide to turn back for help… except they can't. When the man starts to walk through the rocks that shelter the beach, he passes out. When the others try to walk the same way, they pass out too. It's no use, the guests are trapped here with multiple dead bodies and they don't have a way to get out.
That should be worrying enough but other things are happening that ramp up the tension. The kids look different, for one. The swimming costume and trunks that the little girl and boy are wearing suddenly don't fit. Their voices are changing — their faces are changing too. The parents are freaking out; the kids, who can't see themselves to know what's up, can't stop eating from the hamper. The 6 year old suddenly looks like a high schooler. For us, the actors have changed, so we're feeling the weirdness too. Oh, and the girl that washed up? The group put a towel over her body but they've found she's already decayed to bones. That should take years. No, none of it makes any sense.
I felt so invested in the mystery of it all! I adore that unstable moment in fiction when the characters realise that fiction is happening to them, especially when that revolves around horror. It might be a zombie outbreak or a ghost in the attic, but I love it because the author has to make us believe the characters are wrestling with reality, even though their reality is all made up. It also gives us time to adjust to the change on our side, however ridiculous it is, so that we can commit to the rest of the story. And it is ridiculous in this instance.
When they finally crack it, it feels momentous to hear them say the impossible out loud. Time must move differently on the beach if the kids are growing and the dead are rotting in an instant. They run some calculations based on the age the kids seem to have reached since arriving and estimate that an hour is equivalent to 2 years, which means a day would almost reach 50. That is almost certain death for the adults if they don't find a way to escape. I felt a racing panic. The pressure is on. It's no wonder the old woman died as soon as she got here. I was excited and thrilled from a distance until all that good distance collapsed.
Further details emerge. Stood around, discussing their fate, the adults realise that there's somebody in each group who is ill. The rapper has a blood clotting disease, hence the constant nosebleeds as he slips through time. The other family includes a doctor with increasingly obvious Alzheimer's and his wife has a severe calcium deficiency. The couple that arrived last includes a psychologist with epilepsy. The mum has that tumour the kids don't know about yet — the same tumour that is currently blowing up like a balloon on the side of her body. The dad's vision starts to go and at the same time, the mum loses hearing in one ear. The man with Alzheimer's is struggling with anger. He finds a knife and attacks.
I thought this was going to be a casual date night but I was starting to feel more and more self-conscious where I sat. A film about a group of sick people all suffering acutely on the flat plane of a beach with nowhere to hide, rushed through their illnesses by time. I thought about how sick I am now and how much sicker I could get; how difficult it is to be mobile right now, and how age or other conditions could make that challenge much worse. Private feelings at that point, hard to place. I was just feeling a little guarded. And then something happened that pulled this quiet fear outside of me, and I felt it spill out into a wider container that took the shape of this review.
After her child dies trying to climb the rocks and her husband runs around with a knife, the woman with calcium deficiency proceeds to lose her mind in a cave. Alone and upset from all of the death, she also cannot deal with the fact her face is changing so quickly. She won't let anybody look at her so when the kids enter the cave, she sets off in a rage. She starts slamming her arms against the rocks and because of her condition and the conditions of time, her limbs break and then heal instantly in twisted angles. But she doesn't stop there. She hits them again and again, approaching the kids with an exaggerated, crooked movement until she is lying on the floor too broken to get back up again and they are trapped against the wall. She dies there and then. It's a lot. And part of me thinks I should watch that scene again to write about it more accurately but I really don't want to. Everything had just been a slow-paced mystery up until that point, polite even. Suddenly it was like the film felt free, released, and excited to finally cash in on the horror of sickness and disability with explicit force.
Illness is scary. We can be born with conditions and we have no choice in the matter. Illness can come to us at any time otherwise, and if we do get sick, there's no promise we'll get better; there might not even be medication for the kind of sick we become, and then what do we do? Suffer, writhe, or die. I get it. Sickness is the stuff of horror, and so it is mined easily by stories in the horror genre to great success. Audiences are scared of difference in others, and of being different themselves. As I said, sickness is something that can happen to anyone at any time so this brand of horror is in reach — there isn't a bodiless ghost to think about, we're already in the bodies that harbour this specific fear.
At the end of the film, it is revealed that this beach is the secret testing ground of a pharmaceutical company. The hotel nearby is a trap. The holiday-goers are recruited via adverts in pharmacies, and the casual drinks on arrival are spiked with certain medicines they are testing, tailored to the health conditions of incoming guests. After discovering the power of the beach, the scientists came to see it as an opportunity to test medicines in a day instead of trials that last years. The psychologist who has epilepsy in this cohort doesn't actually have any seizures whilst she's on the beach — and consider that her day on the beach is equivalent to years. The team celebrate this because it means they have finally created a successful treatment for epilepsy. They call it a cure. They also have a moment of silence for all those who died in trial #73. 73 groups have been on that beach! But hold that thought for now.
The scientists don't know that 2 of the guests made it off the beach, the grown up versions of the little boy and girl from the original family. They manage to complete a gruelling swim under a tunnel of coral after decoding the hotel boy's message from the beginning of the story. It says 'my uncle doesn't like the coral.' They whistleblow and the film wraps up with a police helicopter flying over the site while the kids consider their future after becoming adults overnight.
This ending doesn't have anybody come out on top. The adult-children will be traumatised, the test subjects are dead, the scientists have all been arrested, and the rest of humanity might not even get to benefit from their findings. Everything feels pointless and in-between, leaving us with this over-arching question that we should leave the cinema (or the couch) to deliberate. Is this experiment, one that involves non-consensual human testing and plenty of casualties on a supernatural beach, worth it if it means finding successful treatments or even cures for the rest of humanity so quickly? It would certainly be worth it for big pharma who would profit even more than usual, but would it be worth it for everybody else?
I think the film wants to end with its hands in the air as if it's not taking sides but the content is too revealing; I think the film says doing this to flimsy sick people is fine, and I will explain my reasoning shortly but not before I put this in context. Because when I arrived at this exact point in writing my review, I questioned everything. Sometimes when faced with art that has upset me, I fall into a strange doubt around my reaction. I struggle to tell if the art really had the power to do that to me all on its own, or if I am reading too much into things. Maybe I am already feeling a certain kind of way that means I am primed to be affected, or the art could in fact be malicious with me its perfect victim. This film has been out for almost a year, so I googled whether anybody else had written this text before me, partly for confirmation of my reading and partly because if somebody else had already written it, I should change gears and write something new. But while I couldn't find any recent writing about the 2021 film Old, I found multiple essays that tracked the harmful portrayal of disability in stories by M Night. Shyamalan across the span of his career.
In Cripped Scholar's 2017 text 'If You're Disabled in an M. Night Shyamalan Film, You are either a Villain or a Supercrip,' the writer reveals just how common this is. From Munchausen's by Proxy in the Sixth Sense, to Osteogenesis Imperfecta in Unbreakable, Dissociative Identity Disorder in Split and learning disabilities in The Village, he keeps up the trope that 'to be mad is to be bad,' where madness always follows disability. Jacob Miller's 2019 essay on the same subject also includes The Visit, where mental illness 'portrays people with disabilities as dangerous to others.' Miller writes more widely about how films often perpetuate 'the idea that people with disabilities should be separated and isolated outside of society,' and how 'the fear of people with disabilities causing harm to others is a tried and true formula in horror.' Both of these statements affirmed what I was seeing and feeling in Shyamalan's latest release, so I could continue with my piece.
I believe Old frames sick people as mad, monstrous, or simply helpless — the only two survivors are healthy. Across horror, and thrillers too, sick and disabled people are used as models for the figure of the monster in order to stoke this mortal fear. They are presented as less than human because of their otherness, closer to freaky possessed beings than the (assumed) perfect, healthy human audiences who observe them. In this film, it is subtle and polite about that treatment until presenting a woman who tortures herself with her own illness for shock value. In this money shot, the film offers a fictional and unadulterated moment of disability so terrifying as if to say that anything would be worth it to not look, feel or move like she does — even murder.
Structurally, with all the focus on the beach until the very last minute, we learn everything about the sick guests and nothing of the mass murderers responsible for putting them in that situation. The film does this, of course, to build mystery. We don't even know there's an experiment happening until the last percent of the film. But over that time, over basically the entire length of the film, it is sickness that thrills and scares the audience — sickness that steps in as the villain, not the scientists who barely come to collect their dues at the end. The film is called Old but only one person — who doesn't even speak, I don't think — actually dies of old age. The horror is offered through disease instead; illness killing the host, or illness driving somebody mad so that they kill themselves or the other guests on the beach — the beach where they are completely trapped and isolated from wider society. A little (big) bit of anti-inclusion for the comfort of the healthy viewer.
And I'm sorry but these scientists just completed trial 73! A touch more condemnation would be great. It makes me feel dizzy to think about producing an entire film around the pros and cons of forced medical experiments. See the Holocaust, Japan's treatment of prisoners in the 1950s, the tainted legacy of Henrietta Lacks in the US; see the UK where the Ministry of Defence was dispersing diseases through the air to assess the population's vulnerability to biological attacks as recently as 1979, disguising their actions as simple projects around weather and pollution to anybody who cared to ask. None of this is entertaining; it is devoid of entertainment, and chilling to rehash the framework in a film set on a picture-perfect beach.
Horror reveals what is scary to society, and according to Old it is getting sick, losing your humanity, and being ostracised because of it. Horror stories such as this one rely on ableism and I resent it. It's also funny because since getting sick, I feel more human than I've ever done. I never used to think about my body, it was simply an instrument that did its job. The bits inside me, the organs and in-betweens, were so quiet I couldn't trust they were even there. But now I am affirmed every day by my symptoms, by the pain in my legs, and the fatigue that weighs me down. I see stars when I stand up. My whole body is hot but my hands feel like they are resting on ice. My nervous system is no longer theoretical because it is broken, and if I can feel it, it has to be there.
Is this mindful? It feels spiritual. I don't want to romanticise chronic illness in any way because it is terrible and long, but I think I feel more human than I used to. I negotiate myself differently. More conscious of who and what I am, it's like I've arrived close to some sort of truth, the core essence of what it means to be alive: watching films on the couch on a Saturday night, going through it. I wonder why stories that feature sickness can't be about tender, fiddly nuances like that instead of telling the world we are monsters — run. Jokes on them because I can't run to chase anyone. Next time, I just want to watch a film about a haunted house instead because honestly, the less humans the better.
If you're here at the end of the text, please comment a 😳 emoji on our Instagram or share the text with a 😳 emoji on Twitter