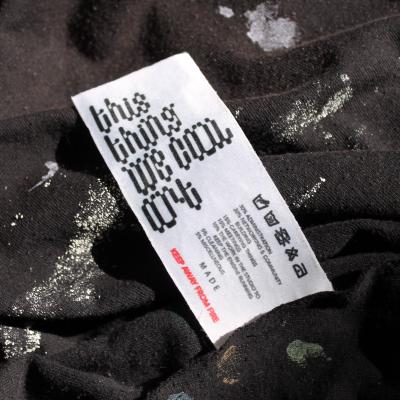 Kelly Lloyd has been interviewing people in the arts about their livelihoods since 2017. She has interviewed 85 people thus far, and this February she released This Thing We Call Art, a podcast featuring hour-long interviews with people in the arts, as well as an archive featuring excerpts from 50+ interviews.
At the conclusion of the first season of the podcast and on the occasion of This Thing We Call Art's online residency at TWP, Lloyd has written nine essays chewing on and making connections between conversations featured on the podcast and in the archive.
» You can listen in here on the White Pube homepage, the This Thing We Call Art website, as well as on Apple Podcasts, Spotify.
---
EPISODES
episode 1 - Dominique White
Dominique White is a sculptor who recently relocated to Marseille after the first Covid wave in 2020. She's been working nomadically since forfeiting her London studio at the beginning of the pandemic, and has since pondered how working nomadically has changed her health and her practice.
Gregory Bae (1986-2021) was a multi-disciplinary artist based in Chicago. He was the co-founder and director of Chicago API Artists United (CAAU), the Asian and Pacific Islander Artist Collective, and the co-director for Bills Auto, an exhibition space in Chicago. He was a Lecturer in the Painting and Drawing and Contemporary Practices Departments at S.A.I.C.
Gordon Hall is an artist based in New York who makes sculptures and performances. A volume of Hall's collected essays, interviews, and performance scripts was published by Portland Institute for Contemporary Art in 2019. Hall is Assistant Professor of Sculpture at Vassar College and will be the 2022 resident faculty at the Skowhegan School of Painting and Sculpture.
episode 4 - Nicole Morris
Nicole Morris is an artist working across gallery, education and community settings both in a solo and collaborative context. Her work uses textiles and film to explore themes of domesticity and labour and how these are performed or re-presented in new contexts.
The crossover area between the disciplines of sculpture and performance are of particular interest to Leah Capaldi's practice, with echoes of the seminal performance work of the late 1960s and early 70s. She explores the pivotal relationship between object or subject, encouraging the audience to question themselves in relation to the work and playing with notions of surveillance and spectatorship.
Voice over by Sandra Gayer.
episode 7 - Hilary Powell
Hilary Powell works with hidden histories and overlooked techniques in acts of imaginative salvage - valuing the seemingly mundane and highlighting and creating the extraordinary in the everyday.
episode 8 - Whitechapel Gallery (Zarina Muhammad & Morgan Quaintance)
Join Kelly Lloyd's discussion with the artist and writer Morgan Quaintance and critic Zarina Muhammad, part of writing duo The White Pube, on the issues and inequalities surrounding artistic labour.
Bella Milroy is an artist and writer who lives in her hometown of Chesterfield, Derbyshire. She works responsively through mediums of sculpture, drawings, photography, writing and text. She is also a portrait artist. This process-based practice is fundamental to her as a disabled artist, utilising and working with the significant limits and demands of living with a chronic illness, all mixed in with the detritus of domesticity.
---
ESSAYS
You can read all 9 essays on the This Thing We Call Art website, or find them linked below :)
---