everything ZM wrote this year
ok here's my list of lil things i wrote this year too. bc i love listicles and also !!! it's a nice thing! how else are we meant to mark the passage of something as arbitrary and abstract as linear time. a year is a silly thing, but it is nice to take stock nonetheless.
Jan
Lubaina Himid @ Tate Modern this was one of my favourite shows i saw this year, and one of my favourite texts i wrote. i love lubaina! i love talking about dreams and portals and stories. my favourite kind of art tbh.

On Yearning: Period Dramas & Hot Vibes i lied, this is my favourite text bc it is sooooooo funny. and true. no! kinkshaming!!!!
Feb
two shows by artists i respect and admire!!! feb was a good month for art imo!
March
Inventing Anna shouldn't have bothered with reviewing this one tbh. looking back, i had literally nothing interesting to say. i think now we have the blog, this would've been a blogpost. nvm!

I ❤️ London this is my phd, my mastermind special subject. the biggest chunkiest art thought i wrote this year. i'm proud of it! But aware that i only barely scratched the surface. I need to keep digging. i want to keep talking to ppl, projects, who are making things work by sheer force of will in the capital where everything in difficult and life exists against the odds. i love london and i love the scrappy underdogs and i love this text. well done zm!!
April
I'm Hungry looking back, i hate this. wish i'd never written about it. wish i'd never written all the food texts tbh! they're private thoughts i should've kept to myself. nevermind, you live & learn!

Portrait of a Moving Image Artist in London Honestly, the portraits & the i <3 London text are big favs bc i love chatting to people! I'm nosy and chatty and i like it when people tell me about their lives and i like it when i get to ask people questions about things i don't understand. i think people are so fascinating! i think the art world is such a funny industry. i just want to know what everyone's up to! this one is a bit more clunky & awkward than the 2nd one, but i'm ok with that. i was testing the format. i'm rly proud of this text too :)
May
Shenece Oretha @ Cubitt don't think i realised it, but i think this text marked a shift in how i approached exhibition reviews. rather than be the critic-on-high, delivering my opinion to you, i wanted to start writing in a more descriptive, subtle way. this is the first text that does that in a way i liked. i think it's bc shenece's show was so beautiful and lingering. poetry begets poetry i guess. i can only make something beautiful against beauty in the first place, so i am always indebted to the artists i write about – which is why i must choose who i write about so carefully!

Portrait of a Director of an Artist-led Space in Leicester really really happy with this text! it's my favourite out of the 2 portraits. honestly i wish i was able to write more of them. maybe i will, next year. but i think portraits could be a good format for me to continue my digging into london and cultural life, how it all works and thrives and survives. maybe the portraits are london specific, or london centric. i love leicester & this portrait, but i am mostly really interested in writing about london. london regional supremacy etc.
June
R.I.P. Germain, Shimmer @ Two Queens i think alex is such a good artist. all the artists I've written about, this far this year, have been so so good. privileged to be able to document my experiences with their work!

Cloud Point @ Paradise Row this show was interesting, but i'd have been better off just speaking to the people at paradise row for a portrait. it was too hot for me to think properly
July
Munch @ the Courtauld i like this text, but it has literally nothing to do with the art I'm writing about? think i just wanted to think about life and images. which is a bit Munch-y, i guess. but it's a reach!

Sun & Sea @ the Albany i literally nearly had to sell my soul to get last minute tickets to this. worth it. loved it.
Aug
Body Vessel Clay @ York Art Gallery ngl, this was a commission, and i probably wouldn't have been to see this show/written this if it wasn't.

My Favourite Painter love this text!!!! i think it's so hard to put into words WHY you LOVE something, esp if you've been loving it out of sight for so long. but the process of writing this deepened my love for Bhupen Khakhar. so i'm pleased with myself and proud of myself for this one. well done zm!
Sep
My Favourite Painting this text is also, suchhhhh a favourite from this year. really really proud of it, but i think i could've written the descriptions of the painting quicker. it could've been half the length and been fine. i just love writing! so i do it longform hahahha
Oct
Emergency, Daisy Hildyard i really love daisy hildyard! one of my top 5 fav writers and maybe one day i'll write the 2nd installment of that blog series: my top 5 favourite books, and actually think about why i loved the second body so much. this book was so clever tho, gosh.

The African Desperate MUBI sponcon, but also, a film i would've written about anyway. commission feelings go both ways i guess! nearly had to sell my soul to gt a screener link to this back in the summer before MUBI came thru with the email tho! loved this film, liked this text, could've done a better job with it but, it is what it is. maybe sometimes, no matter how much u love something, you can never be satisfied with your tribute to it. i'll live, but i wish i could have another go at it!
Nov
Tai Shani @ Gathering wish i'd had more time on this review! But also, am really happy with it, so never mind. probably wouldn't have been able to squeeze every thought in, bc tbh i never can. i could always do with another 2/3 days, regardless of however long i spend on a text. i'm pleased with this text all the same. this was another one of my fav things i saw this year, and a fav text too. it's a nice way to bookend the year! but if u read this after the lubaina text, you can really feel the way my writing style has changed. it's more about things and feelings than the actual art. i'm happy with that, n i think that's good!
Other things i have written:
AN ESSAY ABOUT THE SUBURBS & SPORTS BARS & BOYS IN LONDON FEEDS ITSELF. ED. BY JONATHAN NUNN this is one of my favourite things i've ever written, second only to my review of the park by my mum's house in 2021. i guess the common denominator is: they're both texts about london. i like writing about the city, bc i love it and i want to qualify or justify, dig into the reasoning behind that love – to see if it really is as true as it feels in the moment. i think cities are such interesting things, what a way to live! so silly! so untrue! so arbitrary! so specific! but i love it all the same. i love this text, i love london, i don't love any of the boys i wrote about though. sorry to them. but i did manage to make the back cover quote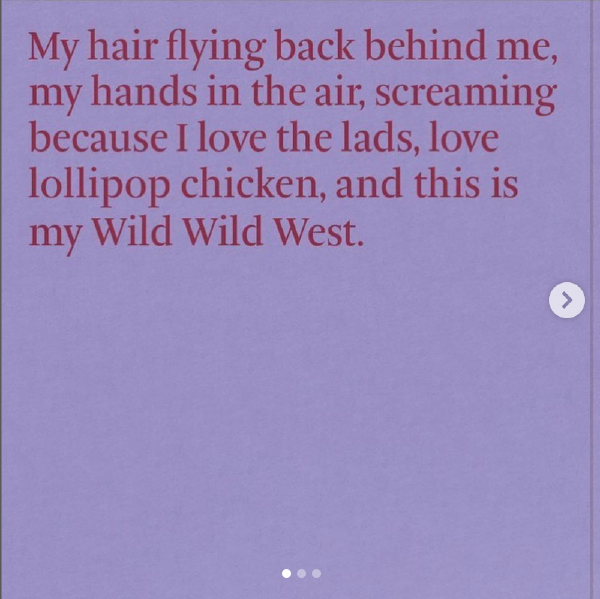 and it's also so silly that my silly little essay about boys and lolipop chicken is in the same book as Jeremy Corbyn's thoughts about allotments. hahhahjaskdbf what a joke. god bless jonathan for having me. such a good editor!
i think that's all! i've not written much outside of TWP bc we've been working on the secret book. not done many interviews either bc i think the world must be sick of hearing what i think by now. i know i am! as we go into 2023, i'm way more interested in hearing what other people think. i'm tired of exercising my own opinion. want to do more chatting, more being nosy, more thinking! and i want to do some Good Work I'm Proud Of. That's my new year's resolution for 2023, i think: head down, work hard. sounds a bit sad, but i think it's just honest about what my/our 2023 is going to look like. it's all work i'm happy as a clam to do though! would rather be doing this work than doing nothing - honestly!
but yeeeee, on the whole, I am really proud of the stuff i've written this year. i think looking back, i'm actually really proud of myself! while the year was unfolding i did feel a few times like 'god, i'm not doing Big Good Texts this year' but, actually, i think i did! i quietly, without me realising, did loads of writing i'm chuffed with. There are only a few texts where i think 'god, i phoned that one in' or that i wrote something for the sake of publishing something. i don't like looking back and thinking 'god, i shouldn't have bothered with half of these' and i v much don't think that this year – really, the opposite! So, a year well spent. proud of myself and pleased with myself. looking forward to another year of live laugh loving and writing on the internet. so glad this is my job because it is my dream job. wouldn't swap it for a million pounds in a heartbeat. so thank you for reading & listening & sticking with! I still don't truuuuuuly believe anyone actually IS reading or listening, but Gab assures me you are. so thank you!
And I'll catch you in 2023. lmk what ur new years resolutions are, i'm keen 2 hear and probably rob any ideas that sound good. have a nice december, and hope u all get a chance to chill out n eat a chocolate orange with the people you love. but that's all from me! Love u byeeeeee XXXXXXXXXX